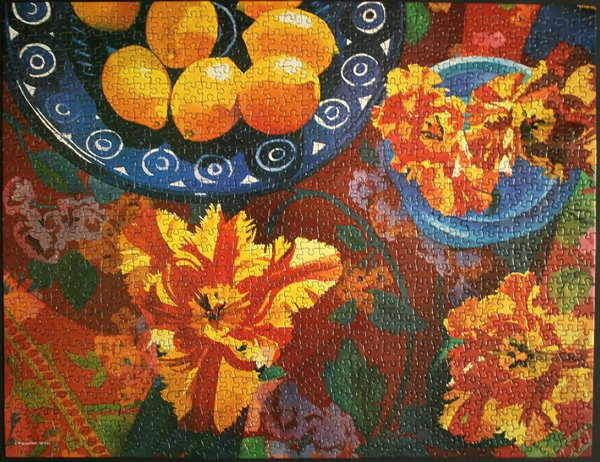 Size: 1000 pieces
Dimensions: 51.12cm x 66.52cm
Producer: Hasbro, MB Puzzles, Big Ben, Artist Series, Nava Grunfeld, 2008
Puzzle: This puzzle is not trivial, but not significantly difficult either. Large blue dish with white spirals and smaller blue dish give a good outline to the top half of the puzzle. Lemons can be filled in afterwards, as well as the lilac-coloured flowers. From that point on, green, yellow, orange, red, and brown patches are equally challenging: I ended up finishing with the tulips, but perhaps a reversal might have been easier.

Artist: Artist Nava Grunfeld was born in Sweden and grew up in Israel, where she began to closely observe nature. She is known for her bold watercolor paintings of still life objects, fruit and flowers. Her technique of layering multiple veils of transparent color onto each painting brings a luminous quality to her work. Like a stained glass window, the white of the paper acts as the light source that glows through the colors. [Puzzle box]