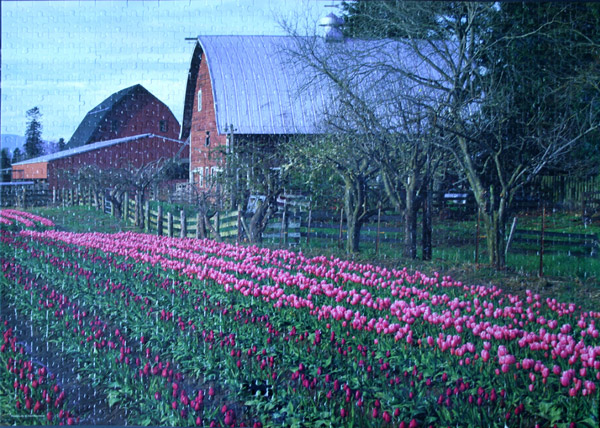 Size: 1000 pieces, 1 missing
Dimensions: 48.10cm x 67.96cm
Producer: Kodacolor
Location: The Degoede Brothers immigrated from Holland, eventually starting their own businesses, in 1948. Henry, the eldest, started DeGoede Bulb Farm in the Skagit County, and later moving to Mossyrock, WA. John DeGoede moved to Sumner and started the Windmill Gardens' Nursery greenhouse and show gardens. Both Henry and John have retired, passing respective flower businesses on to their sons who now own and operate them.
Anthony Degoede, owner of the Skagit Valley Bulb Farm, immigrated from Holland to Canada in 1956, then moved to Mount Vernon in 1957 where he joined his brothers Henry and John. Anthony also helped his oldest brother Henry establish Chuckanut Show Gardens. He managed the Neal Noorlag Bulb Farm until 1983, then purchased his business which now is known as 'Lil Tulip Town which he started twenty years ago. The family operates their bulb farm together. Their goal is to keep this farm in good agricultural production, which includes beautiful apple tree hedging which serve as car dividers. [Tulip Town site]