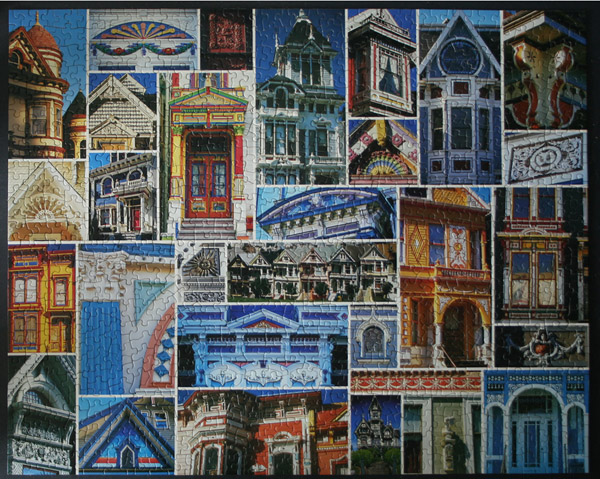 Size: 1000 pieces
Dimensions: cm x cm
Producer: Springbok
Poem: If I could select any house in the world
or the dwelling that I would call home,
how quickly I'd pick a Victorian manse,
a house with a high stained-glass dome!
I'd surely want turrets and towers, all rounded
and stretching straight up to the sky,
and right on the top of the tallest of all
my personal banner would fly.
Each window would sing out the artisan's praise,
beveled panes would be etched with designs
all drawn from the heart of a fantasy world
with the lightest, most delicate lines.
Gingerbread fretwork would grace the veranda
while brass knobs embellished each door,
and mantels of marble from Pisa and Florence
would frame cozy hearths on each floor.
Then down in the garden where roses would wind
'round a latticework trellis just so,
there's be a gazebo with wicker settees
where I and my callers might go.
And just for the times when I need to retreat
and leave behind everyday cares,
I'd have a small room just for daydreaming in
at the top of some steep, hidden stairs.
Yes, if I could choose any house in the world,
I know that's just what it would be —
a showplace designed in Victorian times,
the perfect relection of me!
[Hazel Haupt, puzzle box]