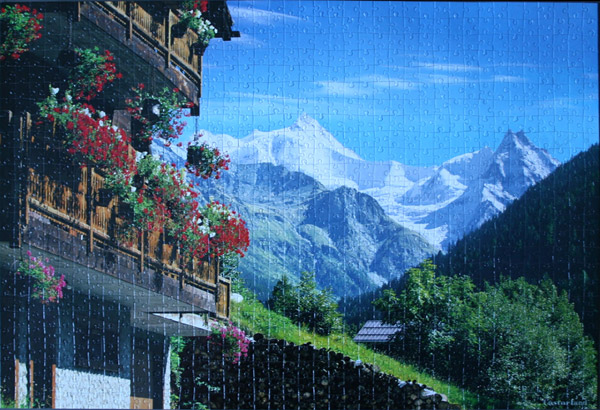 Size: 1000 pieces
Dimensions: 68 cm x 47 cm
Producer: Castorland Puzzle
Notes: The Zinalrothorn (4,221 m) is a mountain in the Pennine Alps in Switzerland. Its name comes from the village of Zinal lying on the north side and from the German word Rothorn which means Red Peak. When it was first climbed in 1864 the mountain was known locally as Moming. [Wiki]
The Valais (German: Wallis) is one of the 26 cantons of Switzerland in the southwestern part of the country, around the valley of the Rhône from its headwaters to Lake Geneva, separating the Pennine Alps from the Bernese Alps. The canton of Valais lies in the southwest of Switzerland. To its south lies Italy, to the southwest France. To the north the canton is bounded by the Swiss cantons of Vaud and Bern; the cantons of Uri and Ticino lie to its east.
The wide, glacial Rhône valley dominates the area. There are many side valleys which branch off the main valley. These vary from narrow and remote to reasonably populous and popular. At the head of the Mattertal valley lies Zermatt, a pretty tourist village dominated by views of the Matterhorn (4,478 m). Fifty of the mountains exceed 4,000 m with the highest, Monte Rosa, reaching to 4,638 metres, and there are numerous glaciers including several of the largest in the Alps. [Wiki]