It had been a very productive and busy morning this past Friday: I've taken care of many errands and was setting things up to have a no-distraction writing session in the afternoon. The baby drifted off to sleep, I tucked her in, and came downstairs to get into the zone. Unexpectedly, the room appeared quite dark, and, as I looked out the window, I realized that it was due to a large storm cloud hanging ominously overhead. The thunderstorm hit in about two minutes – just enough time for me to pull the stroller inside from the back yard.
I had foresight enough to save all of my work on the computer, just before the power started fluctuating. In a couple more minutes, I heard a gust of wind outside and a loud bang upstairs as the bedroom door slammed shut. I rushed upstairs and found the baby wide-eyed and awake, the plexiglass cover from above the air conditioner gone, air conditioner itself threatening to plunge down, and sheets of rain coming through the now-open window, soaking the curtains, the walls, and the two puzzles mounted on one of the walls.
In a few minutes, I have managed to put some towels on the floor, and half-lowered half-dropped the air conditioner (my, are those things heavy!) onto the towels, with the rain lashing through the window and water coming out of the AC. A few more moments, and I was able to remove the protective foam padding we had for the AC from the window sill and slide the window shut.
Results: soaked walls, floor, puzzles, curtains, AC, and myself, baby awake and unhappy to be so. A change of clothes later, the baby in my arms, we've descended downstairs to discover that the power had gone out in the entire building. So much for an uninterrupted writing session.
I have fed the baby, and, once the rain was over, we went out to examine the damage. Our gazebo miraculously stayed put (thanks to all the grapevines, tomato vines, and bean stalks firmly wrapped around its supports. A neighbour's gazebo was not as sturdy, it appears. I have searched the nearby yards for the plexiglass that got ripped out of our window, and have found two pieces in another neighbour's yard. My partner has later located the third piece on the other side of the building, presumably deposited there by the wind.
At this point, it was around 4pm, and we had no connection with the outside world, except for a cell phone, which is not, should I say, smart. That is, it's a phone without a collection of apps or a data plan. I've been mostly wondering whether (a) my son's daycare had the luck of not losing power, and (b) how large of an area has been affected and how long it would take to restore the power. I finally got through to my partner, after trying for over half an hour, and he said he would take care of finding that out. There I was, with a tired baby fighting sleep, at least two hours to wait to find out the details once my partner and son got home, and no way to do work. This could have been an annoying setback. I could have focused on the fact that I would not get any work done that day, and stressed over it. But I strive to shape my own reality, so instead, I have chosen to look at it as an opportunity for electronic detox.
For an hour or so, I read a wonderful book on Waldorf philosophy – Beyond the Rainbow Bridge – and the baby, surprisingly, was happily playing nearby, occasionally getting my attention for a feed, a change, or an engagement with a toy. When my people got home, they brought dinner, so we didn't have to figure out the cooking arrangements without electricity. My chief concern was that if the outage lasted longer than 24 hours, we would have to find a way to relocate the contents of our freezer to someone with power and freezer space, or all the food would spoil. Aside from that, things were not bad.
We spent some time outside with what felt like the entire neighbourhood. Kids were out of doors as no electronic means of distraction were available. Adults came out, smiled, made meals together, borrowed necessities, and talked long through the night. The place felt alive. We came inside, pulled out the bongos and maracas, and sang and played in candlelight. Later the rain started again, although not as strong. The kids had a bath with candles lighting the room, and we told stories and sang songs. We ended up going to sleep early, in a true darkness, for a change, as opposed to the bright outside lights that usually penetrate our windows at night.
In the morning, we were the first ones up and out, it seems. My partner dug out an old propane camping stove, and we made delicious farm-raised eggs with organic tomatoes, sprinkled with cayenne pepper, and boiled some water for tea.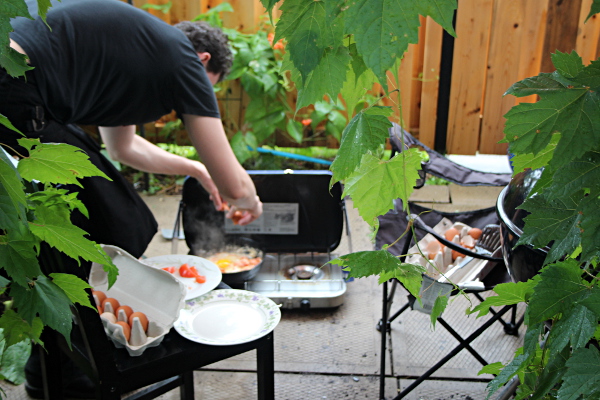 He had a massage appointment that morning (the massage place got the power back at 8:30am) and took both of our phones with him, to charge them there. In the meantime, I stayed home with kids, played floor games, read books, made a necklace with my son, had some snacks, and sang more songs. My partner got home, and around 12:30, as we were putting the children down for a nap, the power came back up.
A friend of mine was going camping that weekend. I gather, it didn't happen since the rain was so strong. Without planning it, we managed to have a "camping" adventure at home with flashlights and candles, without noise and electronic distractions, with a breakfast cooked in the fresh morning air, a dark night, and an early rising. It has been a wonderful energetic reset where we took things slowly and enjoyed each others' company, letting work and interruptions wait.