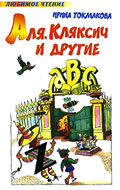 Title: Аля, Кляксич и другие
Author: Ирина Токмакова
Source: Veddma library
ISBN: 978-5-271-11578-3
Link: http://www.ozon.ru/context/detail/id/3374504/
Notes: This book includes five stories designed to teach pre-school and early-school children Russian alphabet, numbers from 0 to 10, Russian grammar, Russian orthography, and English alphabet. The stories are united by the single protagonist – the girl Alya. In some stories she is accompanied by her friend Anton that is the same age as her.
I remember the Russian alphabet story from childhood – I enjoyed it immensely, which is why I got this book for my library. The other stories are new to me, and I believe the English one was written recently. The stories are bright and full of life and adventure, the dialogue is simple and as I recall very captivating for a child. It would make a good book to read to the children to introduce them to the alphabet. Once they can read, the other stories can broaden their appreciation and understanding of grammar and orthography, all while following a fun story.