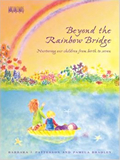 Title: Beyond the Rainbow Bridge: Nurturing our children from birth to seven
Author: Barbara J. Patterson and Pamela Bradley
Source: borrowed from a friend
ISBN: 0-9647832-3-1
Available online
This is a wonderfully down-to-earth book discussing the Waldorf philosophy of education based on the anthroposophy writings of Rudolf Steiner. It talks about the subject matter in an accessible way, focusing on key concepts and  examples, and including direct dialogue with parents.
The writer makes an important point that we, as parents, must grow in order to meet the needs of our children. We need to constantly evolve to discover and explore our potential, in order to help our children to do the same.
The key needs of rhythm and warmth in the child's life are noted, and expanded into the discussion of 12 human senses identified by Steiner: the Will senses (or physical senses, directed at own physical body) of touch, life, movement, and balance; the Feeling senses (or soul senses, relating the person to the world) of smell, taste, sight, and warmth; and the Cognitive senses (or spiritual/social senses that are directed inward): hearing, speech, another's thought, and another's "I".
The author talks about stages of development and corresponding trends in creative play and discusses strategies to support children's creative play and to provide experiences with water, air, earth, and fire. She talks about the traditional Waldorf toys for different ages and provides instructions on how to make them.
Several creative discipline approaches are discussed:
exhibiting the traits and behavioural patterns you would like your child to learn;
straightening out things in the child's environment to "reform" their space, thus adding consistency and order into the child's universe;
giving unambiguous messages and simplifying and limiting the choices;
using the word "may" instead of a command or question: "you may now wash your hands" instead of "do you want to wash your hands?" or "go wash your hands", without adding "OK?" at the end;
utilizing routines to foster the sense of rhythm;
providing opportunities for useful work, such as garden help, kitchen help, and physical exercise;
listening to the child attentively and providing a logical solution to a conflicting situation;
stepping back to allow for self-expression and questioning of the rules;
speaking positive, encouraging words;
showing unconditional love.
At the end of the book, there are resources for additional reading, suggestions for age-appropriate fairy tales to tell or read to children, instructions on how to finger knit, short rhymes describing the routines of the day, rainbow bridge birthday stories that can be customized to be relevant to a particular child and told to them on their birthday, and description of various stages of Waldorf education.
I kept feeling the overwhelming sense of peace as I was reading this book. It speaks of gentle parenting, attention to the needs and developmental stages of the child, providing the appropriate environments to foster creativity, exploration, and discipline, and practical ways to accomplish it, with parent/teacher discussions at the end of each chapter. It feels like a steady rock in the ever-changing sea of parenting.