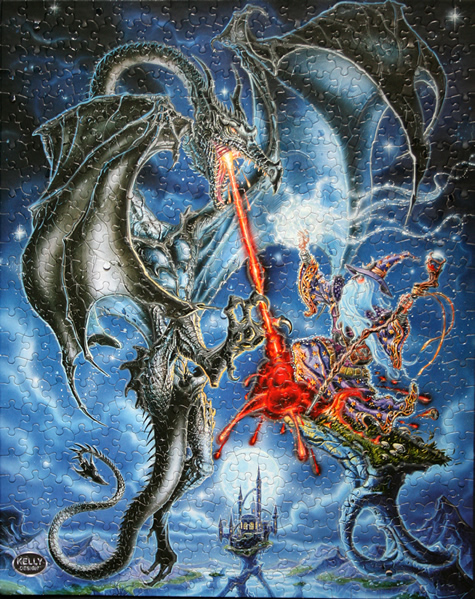 Size: 500 pieces
Dimensions: 30.48cm x 40.64cm
Artist: Richard Kelly
Producer: Ceaco, 3 Glow in the Dark Jigsaw Puzzles, # 3562-2
Notes: A dragon is a legendary creature, typically with serpentine or reptilian traits, that features in the myths of many cultures. There are two distinct cultural traditions of dragons: the European dragon, derived from European folk traditions and which is ultimately related to Greek and Middle Eastern mythologies, and the Chinese dragon, with counterparts in Japan, Korea and other East Asian countries.
The two traditions may have evolved separately, but have influenced each to a certain extent, particularly with the cross-cultural contact of recent centuries.
The word dragon entered the English language in the early 13th century from Old French dragon, which in turn comes from Latin draconem (nominative draco) meaning "huge serpent, dragon," from the Greek word δράκων, drakon (genitive drakontos, δράκοντος) "serpent, giant seafish", which is believed to have come from an earlier stem drak-, a stem of derkesthai, "to see clearly," from Proto-Indo-European derk- "to see" or "the one with the (deadly) glance." The Greek and Latin term referred to any great serpent, not necessarily mythological, and this usage was also current in English up to the 18th century. [Wiki]