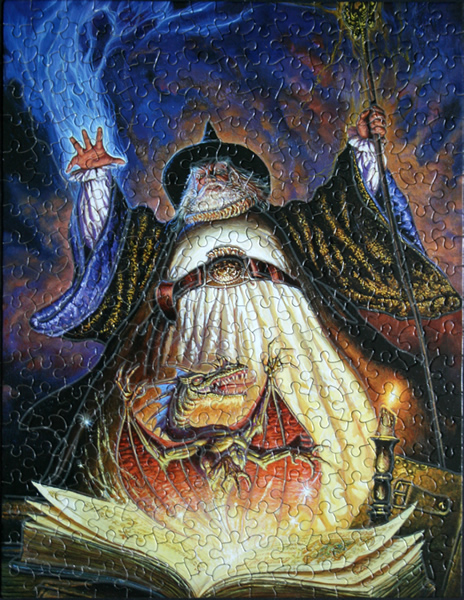 Size: 300 pieces
Dimensions: 45.72cm x 35.56cm
Author: Meiklejohn Graphics, UK/Applejack Licensing
Producer: Ceaco, 3 Glow in the Dark Jigsaw Puzzles, # 3562-2
Notes: Evocation is the act of calling or summoning a spirit, demon, god or other supernatural agent, in the Western mystery tradition. Comparable practices exist in many religions and magical traditions.
Conjuration in traditional and most contemporary usage refers to a magical act of invoking spirits or using incantations or charms to cast magical spells. In the context of legerdemain, it may also refer to the performance of illusion or magic tricks for show. This article discusses mainly the original and primary usage, describing acts of a supernatural or paranormal nature.
The word conjuration (from Latin conjure, conjurare, to "swear together") can be interpreted in several different ways: as an invocation or evocation (the latter in the sense of binding by a vow); as an exorcism; and as an act of producing effects by magical means. [Wiki]