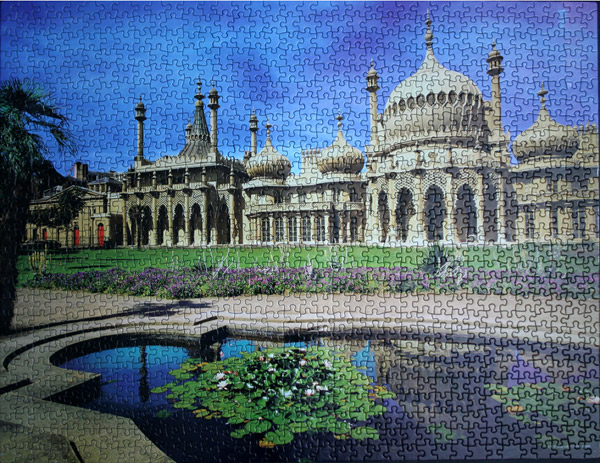 Size: 1000 pieces
Dimensions: 51.12cm x 66.52cm
Producer: Big Ben, MB Puzzles
Notes: In the mid 1780s George, Prince of Wales, rented a small farmhouse overlooking a fashionable promenade in Brighton.  Brighton was developing from a decayed fishing town to an established seaside retreat for the rich and famous, being close to London. George IV's original farmhouse had little land attached to it. As his financial position improved he was able to purchase parcels of land surrounding the palace to create the estate we see today. John Nash transformed Henry Holland's modest Marine Pavilion into an Indian-style palace. The grand central dome was balanced by the sweeping tent roofs of the Music Room and the Banqueting Room, and a forest of small domes, minarets, pinnacles and chimneystacks. The rendered surfaces of the Royal Pavilion were painted in imitation of stone to match real stone details, creating a unified vision of a building made of Bath stone.
The Royal Pavilion gardens were designed by John Nash as a picturesque pleasure ground for the king. The garden designs reflect the revolution in landscape gardening that had begun in the 1730s. Straight lines and symmetrical shapes were replaced with curving paths, natural groups of trees and shrubs and picturesque views. Planting began in 1816 (at the same time as John Nash's remodelling of the Marine Pavilion) and was completed by the early 1820s. It provided an attractive, shady sanctuary on a hot summer's day. [Royal Pavilion, Museums, and Libraries site]