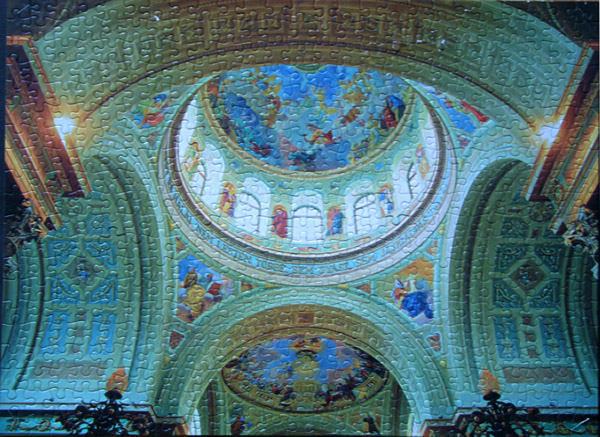 Size: 500 pieces
Dimensions: 48.26cm x 35.56cm
Producer: Sure-Lox, The Canadian Group
Notes: Eger has been inhabited since the Stone Age. Today's Eger was formed in the 10th century by St. Stephen (997–1038), the first Christian king of Hungary, who founded an episcopal see in Eger. The first cathedral of Eger was built on Castle Hill, within the present site of Eger Castle. Eger grew up around its former cathedral and has remained an important religious centre in Hungary since its foundation. The 14th-16th centuries were an age of prosperity for Eger. Winegrowing, for which the town is still famous for, began to be important around that time. The bishops of Eger built beautiful buildings in the city during 18th and 19th centuries.
The Cathedral or basilica, built in 1831-37 to Classicist designs by Jozsef Hild, is imposing rather than attractive, but contains some remarkable painting and sculpture. Late morning organ recitals are held frequently.
Beside its historic sights and its thermal baths, Eger is famous for its wines. In fact, it produces both red and white wines of high quality Eger Wine Region. The famous and traditional varieties of the region are Egri Leanyka, Egerszolati Olaszrizling, Debroi Harslevelu (whites), and Egri Bikaver (a red). More recently, Chardonnay and Pinot noir wines have appeared. The region's wines are said to bear a resemblance to those of Burgundy. Although the quality of the wines deteriorated in the second half of the 20th century, especially the cuvees, Eger is slowly recovering its reputation as a wine region. [Wiki]