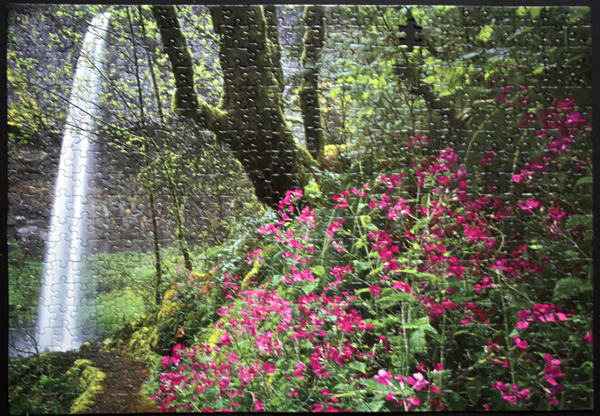 Size: 500 pieces, 1 missing
Dimensions: 35.24cm x 50.48cm
Producer: MB Puzzle, Croxley series, 1996, #4611-14
Puzzle: The waterfall and the tree are the logical places to start, followed by highlighted grass and leaves, the flowers, and finally by branch and leaf regions. Pleasant and not trivial.

Gorge: A canyon, or gorge, is a deep ravine between cliffs often carved from the landscape by a river. Rivers have a natural tendency to reach a baseline elevation, which is the same elevation as the body of water it will eventually drain into. This forms a canyon.
Canyons are much more common in arid areas than in wet areas because physical weathering has a greater effect in arid zones. The wind and water from the river combine to erode and cut away less resistant materials such as shales. The freezing and expansion of water also serves to help form canyons. Water seeps into cracks between the rocks and freezes, pushing the rocks apart and eventually causing large chunks to break off the canyon walls, in a process known as frost wedging. Canyon walls are often formed of resistant sandstones or granite. Submarine canyons form underwater, generally at the mouths of rivers. [Wiki]