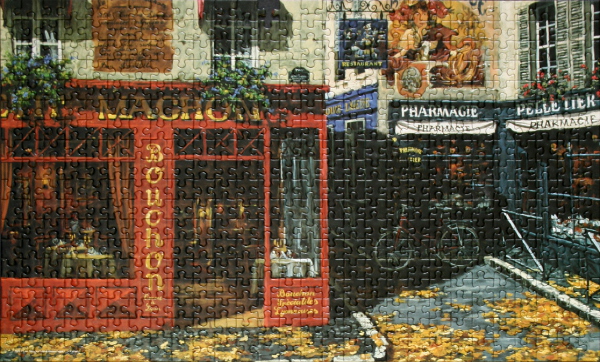 Size: 504 pieces
Dimensions: 45.7 cm x 27.3 cm
Producer: Sure-Lox pieces. Company unknown – I do not have the box anymore. If you have this information, please do share. There were 4 puzzles in the box: Autumn in Paris, Buca Francesco, Rue Lafayette Paris, and Sunset Blaze – all by the same artist.
Artist: Viktor Shvaiko – Russian artist Viktor Shvaiko was born August 23, 1965 in the Altai region. He grew up among the beautiful and rich landscapes of Siberian nature. He vision of beauty and passion for art helped him to enter the Novoaltaisk Artistic School. After graduation Viktor Shvaiko and his family left Altai for Pridnestrovie (Transkarpthia). There first exhibition of paintings was in Moukachevo in 1990, then a group exhibition in Hungary in 1991, and in Russia. In 1991 Viktor Shvaiko went to Italy. It was there Russian traveling artist Viktor Shvaiko painted beautiful images of cosy cafe areas around Italy, also in France. These paintings full of light illuminate the beauty of sunsets and dawns on the background of cityscapes. [All of Russia site]
Puzzle: A beautiful puzzle, easy to do due to its small size and well-fitting Sure-Lox pieces. Great places to start are the red storefront with yellow letters, the beige and brown wall regions above, the Pharmacie banners, the blue store front on the crossing street, and the grey windows in the top right corner. The pavement, yellow leaves, white pavement borders, and the painting above Pharmacie sign can be completed next, leaving the black Pharmacie store front, the windows above the red store front, and a few other small regions to complete the puzzle.