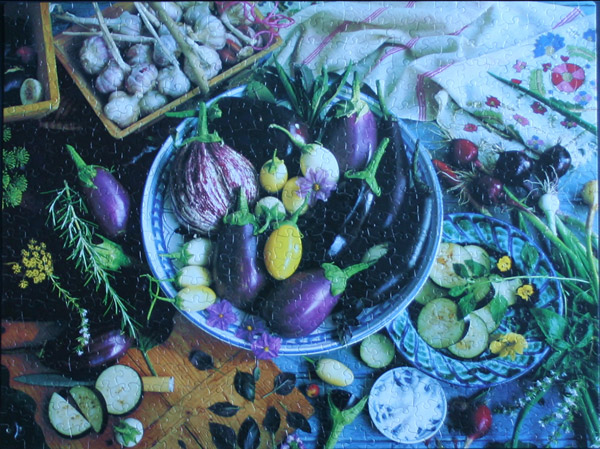 Size: 1000 pieces
Notes: I do not have a record of the producer of the puzzle as I do not have the box anymore. A clarification is welcome – if you have any clue as to the details regarding this puzzle, I would much appreciate that information.
The eggplant, aubergine, melongene, brinjal, or guinea squash (Solanum melongena) is a plant of the family Solanaceae (also known as the nightshades) and genus Solanum. It bears a fruit of the same name, commonly used in cooking. As a nightshade, it is closely related to the tomato and potato and is native to India.
The fruit is botanically classified as a berry, and contains numerous small, soft seeds, which are edible, but are bitter because they contain nicotinoid alkaloids, unsurprising as it is a close relative of tobacco.
The first known written record of the plant is found in Qi min yao shu, an ancient Chinese agricultural treatise completed in 544. The numerous Arabic  and North African names for it, along with the lack of the ancient Greek and Roman names, indicate it was introduced throughout the Mediterranean area by the Arabs in the early Middle Ages. [Wiki]