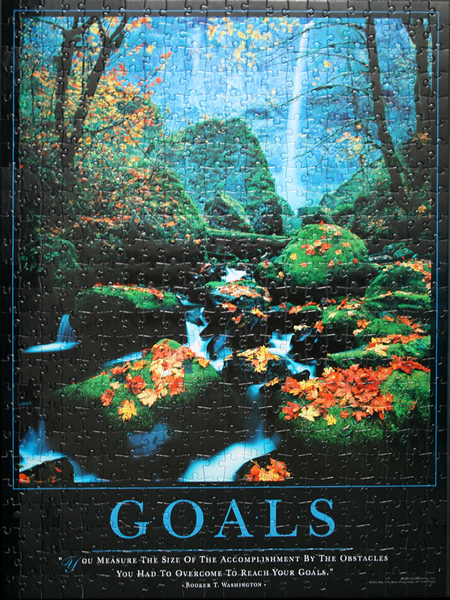 Size: 550 pieces
Dimensions: 45.72cm x 60.96cm
Producer: NSI Innovations, Motivational Classics by Successories, Inc., #32133
Notes: 
A goal is a desired result an animal, person or a system envisions, plans and commits to achieve—a personal or organizational desired end-point in some sort of assumed development. Many people endeavor to reach goals within a finite time by setting deadlines.
It is roughly similar to purpose or aim, the anticipated result which guides reaction, or an end, which is an object, either a physical object or an abstract object, that has intrinsic value.
Efficient goal work includes recognizing and resolving all guilt, inner conflict or limiting belief that might cause one to sabotage one's efforts. By setting clearly defined goals, one can subsequently measure and take pride in the achievement of those goals. One can see progress in what might have seemed a long, perhaps impossible, grind. [Wiki]