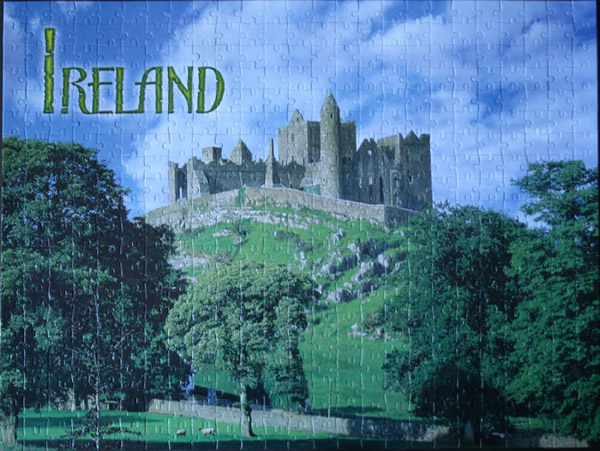 Size: 500 pieces
Notes: I brought this puzzle with me from Ireland in 2008. I do not have a record of the producer of the puzzle as I do not have the box anymore. A clarification is welcome – if you have any clue as to the details regarding this puzzle, I would much appreciate that information.
The Rock of Cashel (Irish: Carraig Phádraig), also known as Cashel of the Kings and St. Patrick's Rock, is a historic site in Ireland's province of Munster, located at Cashel, South Tipperary.
The Rock of Cashel was the traditional seat of the kings of Munster for several hundred years prior to the Norman invasion. Few remnants of the early structures survive; the majority of buildings on the current site date from the 12th and 13th centuries. Cashel is reputed to be the site of the conversion of the King of Munster by St. Patrick in the 5th century. The picturesque complex has a character of its own and is one of the most remarkable collections of Celtic art and medieval architecture to be found anywhere in Europe.
According to local mythology, the Rock of Cashel originated in the Devil's Bit, a mountain 20 miles(30 km) north of Cashel when St. Patrick banished Satan from a cave, resulting in the Rock's landing in Cashel. [Wiki]