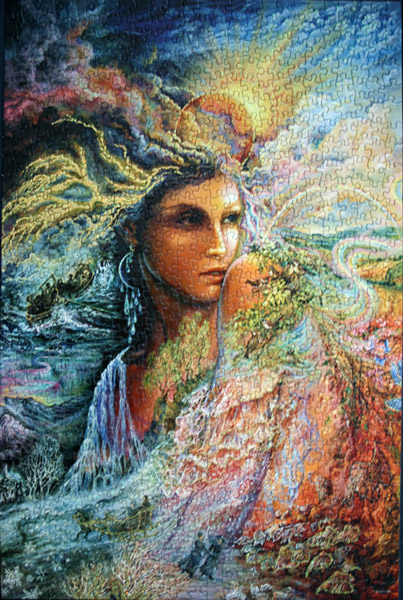 Size: 750 pieces
Dimensions: 59.7 cm x 39.4 cm
Producer:  The Canadian Group, Sure-Lox, Art of Josephine Wall
Artist: Josephine Wall
Notes: The powerful spirit rises up to fill our lives with all the elements we need to complete the cycle of nature. Raging seas challenge our courage to the limits, teaching us the skills and strength we will need to endure the storms and darkness ahead.
A winter wonderland in which the landscape is transformed into a playground for us, and allows nature to slumber, gathering strength to burst forth in all it's splendour, as the first signs of spring approach.
As the dark skies clear, and we feel the tranquil breath of spring, we are greeted by a gleaming sun, which colludes with the gentle rain to bring us a myriad rainbows, and to restart the cycle of life. [Josephine Wall's site]