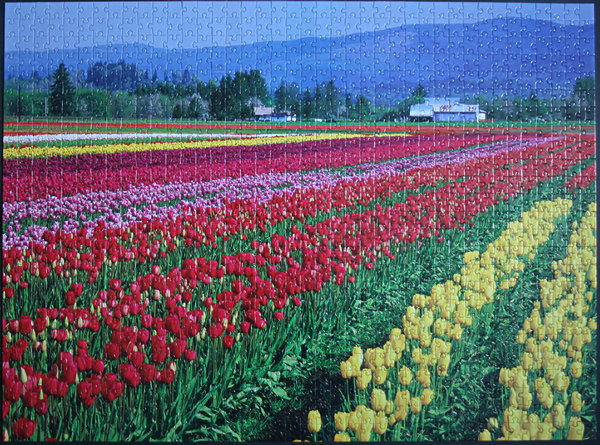 Size: 1000 pieces
Dimensions: 51cm x 68.5cm
Producer: Lafayette Puzzle Factory, Colorluxe series, 2009, #1500
Puzzle: The sky, trees, and the horizon with narrow flower rows of different colours are the easy part of this puzzle. The yellow and red tulips, together with green leafy regions present more of a challenge. Not very hard to complete, but having good lighting is a bonus.
Mossyrock: Mossyrock is a city in Lewis County, Washington, United States. The population was 759 at the 2010 census. The city began as a trading post named Mossy Rock in 1852, after a 61 meter high moss-covered rock at the east end of Klickitat Prairie. The Indian name for the area of Mossyrock was Coulph. [Wiki]