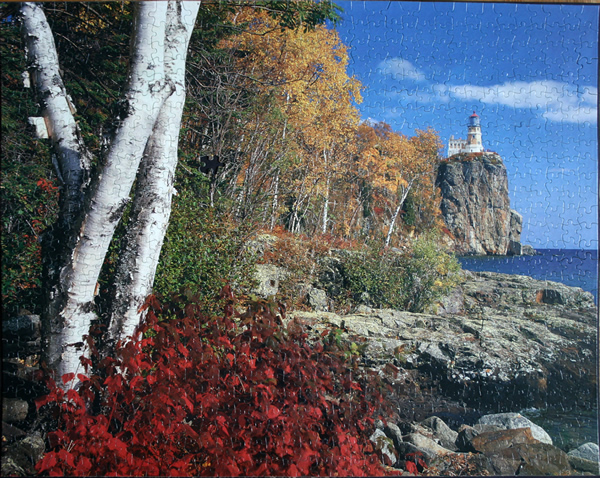 Size: 1000 pieces
Dimensions: 54.5cm x 70cm
Producer: Golden, Guild Puzzle, #4710-57
Puzzle: One of the logical ways of approaching this puzzle, is to put together the long white birch tree trunks first, giving a continuous vertical anchoring. The sea and the lighthouse are trivial to put together, and provide a line of horizon, so that the sky and top of the rocks fall into place. Orange and red leaves are the next logical choice, leaving the more uniform pieces of rocks and brush to the end. No name is provided on a box – it would have been nice to know where this photo was taken.
Birch tree: The bark of all birches is characteristically marked with long, horizontal lenticels, and often separates into thin, papery plates, especially upon the paper birch. It is resistant to decay, due to the resinous oil it contains. Its decided color gives the common names gray, white, black, silver and yellow birch to different species.
Birch trees are typically rather short-lived pioneer species widespread in the Northern Hemisphere particularly in northern temperate and boreal climates. [Wiki]