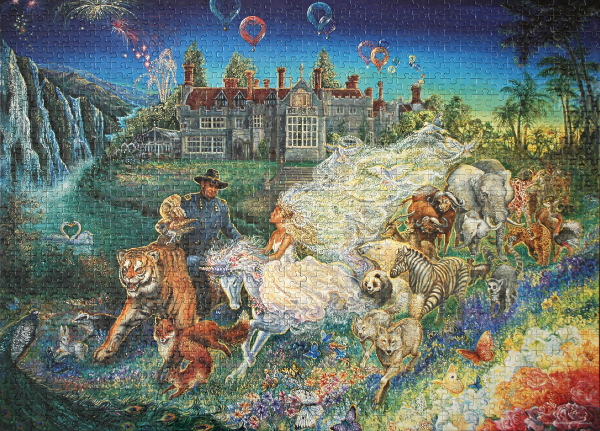 Size: 1000 pieces
Dimensions: 67 cm x 48 cm
Producer: RoseArt, Masterworks series
Artist: Josephine Wall
Puzzle: A simple puzzle to do, due to its many distinct elements. One can start really anywhere – good places are the rainbow-coloured flowers in the bottom right, the white of the bride and her horse, the balloons and the sky, palm trees, waterfall, and river. The building and various animals can follow, and the rest is trivial.

Notes: "At a fantasy wedding there is no need of a limousine when the bride can arrive on a pure white unicorn, and the groom on a powerful striped mount.With attendants from the jungles and plains, the happy young couple set out on their journey through life together, surrounded by all the things that have meant so much to them. What a magical day, one never to be forgotten!" [Josephine Wall site]