Vary the intensity of activities to maximize productivity and balance out work and rest.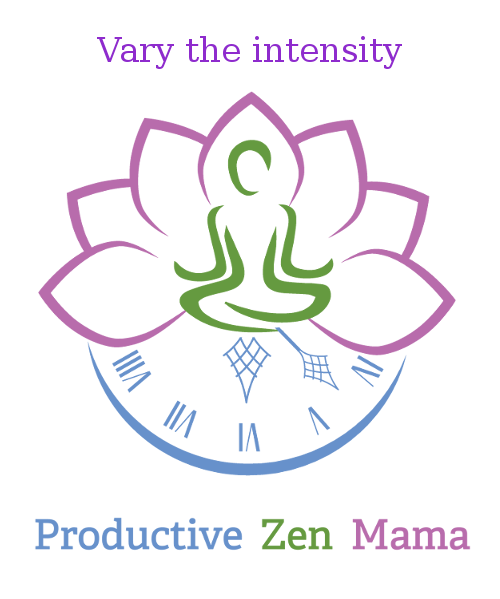 Just as effective exercise alternates short bursts of intensity with periods of rest to achieve the best results, so does alternating quiet and intense, mental and physical, prescribed and free-form activities result in higher overall productivity and satisfaction with your reality. How often have you felt that after 4-6 hours of doing the same thing your mind and body are exhausted and yearning for being engaged in a different task? Your problem solving ability plummets, your irritation threshold becomes very small, and your entire being protests the monotony. When I was growing up, I was told: "Switch up the type of activity, and it will feel like rest". I'm finding this very true as I have to juggle work, childcare, cooking, running a business, and completing various types of projects. When you've been programming for 8 hours, an hour of cooking or beading might feel like rest, and vice versa.
If you look at it on a daily scale, alternate cooking, work, taking a walk (to get lunch, to run an errand, to get fresh air, to distract the baby, to get up and move), doing home chores, gardening, tidying up, taking a shower, having a snack, doing a yoga or exercise routine, playing with kids, reading, and sleep. As an example, if you have the flexibility, grab a shower and have breakfast, do a couple of hours of work, followed by tidying up the kitchen and stretching or dancing for 10 minutes, followed by another hour of work, followed by a brisk walk outside, have something to eat, do more work, set dinner to cooking, followed by work, playing with kids, etc. You can tweak it as your time, schedule, appointments, and time with children allows, but let yourself stop doing whatever it is you are doing if you are mentally or physically tired of it. You are not producing optimal results at that stage, and your time is better spent elsewhere. While cooking, playing, or sleeping, you might come up with a solution to a problem that has baffled you when you were staring at it at your workplace.
There is, however, one exception to the switching up the activities: if you are in the state of flow (or "the zone"), you won't want to stop. The flow happens when we are immersed in solving a problem or performing a task and everything comes naturally, the solution just flows through us and materializes. Poets refer to it as their Muse visiting. Do not interrupt the flow — you won't want to anyway, likely you won't even notice the time passing. If you have appointments, make sure you do set alarms that will (unfortunately) pull you out of the flow, otherwise you might miss them, being so engrossed in the task at hand. For most mothers with children at home, the flow is a very rare state, however, so clearing out the distractions and using up short intervals of time available are key.
Where varying the intensity becomes even more powerful, is a weekly scale. During a typical week, try to alternate periods of work, socializing, quiet rest and contemplation, play time with the kids, cooking and family dinners, time to garden, exercise, bathe, read, spend time with your partner, regroup and plan. All of these have different levels or mental and physical involvement, allowing you to vary the extent to which your body and mind are engaged.
I like doing the following mental exercise: imagine comfortably sitting cross-legged on a cushion, in the middle of circle of singing bowls, with sunlight streaming through the window beside you. Each bowl is a part of your life: work, relationship with your partner, relationships with your children, relationships with your parents and siblings, relationships with friends, your mind's peace, your body and health, your business, and so on. If you have spent some time with your children recently, the note played by your "relationships with children" bowl is clearly ringing, filling your universe with joy. If you have not spent much time with your partner lately, the note from that bowl is barely audible. Listen to each bowl in turn and see which sounds are fading. Over the week, try playing each bowl so that it sings pure and strong in your universe, and so that together all the notes are sounding in beautiful harmony.
We all know that we need a day of quiet rest after a loud party filled with people, music, and interaction. We enjoy lazy weekends after a long week filled with work. And we often long for some adult time after spending many hours with children, only to realize when we  come home that we need to hold the baby right now! At any point during your day when you are not feeling fulfilled or productive, stop and think whether your time would be better spent elsewhere, and if you can — switch the intensity or type of activity, even if for fifteen minutes. You can come back refreshed and with better ideas on how to approach your initial task.