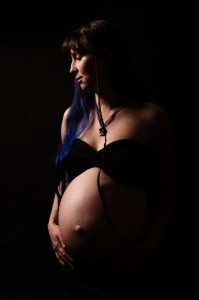 Blessingway stems from a Navajo tradition that marks rites of passage in a woman's life: her first moon time, her wedding, birth of her children. In the Western society, Mother's Blessing (or Blessingway, or Blessing Way) refers to honouring a pregnant mama. Whereas a baby shower focuses on the baby and on giving gifts to the baby, the Blessingway is held to shower the mother with love and understanding from other women.
Blessingway celebrations can incorporate many different elements and traditions. Usually only women are present (exceptions are made for babies and sometimes small children of both sexes). It is often a potluck, where everyone brings a dish to share with others. Blessingway is a time when women take care of other women – something that is often lacking in our age of nuclear families, as we live too far from our relatives.
One of the most well-known Blessingway traditions is making a necklace for the mama. As part of the ceremony, each woman brings with her a bead and strings it on a cord, while sharing words of wisdom and love with the mama-to-be. Together the Blessingway beads make a necklace from which the pregnant mama can draw strength throughout the last weeks of her pregnancy and in labour.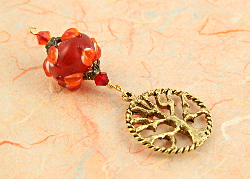 I was moved so much by the idea of this necklace that connects all of the positive energy and wisdom of the women who string it together, that I have designed a few Blessingway beads myself, by dressing up a Birth Goddess or a Tree of Life charm with a flower lampwork bead, and adding accents with crystals, beads, and intricate bead caps. Women around me loved them, and so I have put them up on Etsy and have since created many more different designs.
There are many other elements that can be incorporated into the Blessingway:
drawing a henna design on mama's belly
washing mama's tired feet (that feels absolutely divine in third trimester!)
brushing her hair
giving her a shoulder massage
or anything else to make the mama feel loved and supported through the last weeks of pregnancy.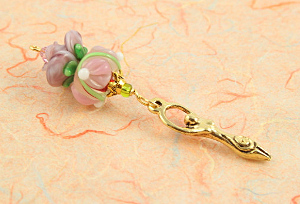 Another beautiful tradition is where the mama-to-be gives each woman at the Blessingway a candle. Once they get the news that the mama is in labour, they each light a candle and let the flame burn until the baby is born, sending their positive energy and thoughts to the labouring woman.
Several lovely women have put on a Blessingway for me as I was pregnant with my second baby. It was wonderful to be surrounded by so much support, love, and understanding. I have since participated in Blessingway ceremonies for other mamas, and they make me feel a part of the great sisterhood of birthing, nursing, nurturing, laughing, loving women. If you have a woman in your life who is pregnant, I would highly recommend hosting a Blessingway for her: it is a wonderfully warm and supportive tradition. I have put together a few tips on organizing a Blessingway, based on the ones I have attended.