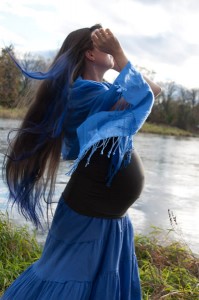 If you have a pregnant mama in your life that needs love and support of other women, Blessingway (or Mother's Blessing) is a wonderful ceremony to honour her and celebrate her pregnancy. The key to a good Blessingway is that everyone who comes can only bring positive energy. People who are unable to be warm, loving, supportive and understanding of a pregnant mama are better to stay away.
The Blessingway is usually hosted in the last few weeks of pregnancy, when the belly is big and round, the mama is getting into a mindset for labour and is ripe to receive some nurture and support. You would need a place that can fit all the women who wish to participate – Blessingways usually take place at someone's home. The number of people attending is flexible, yet, if you can, have ten or more women gather, that way you can string together a necklace, have a variety of dishes for the potluck, and much wisdom to share. If you can only find a few people, don't worry:  everyone can always bring more than one bead and cook more than one dish, to make up for the lack in numbers.
If you are a mama who is alone in a new city without friends or family, reach out to birth or breastfeeding groups to find a community of supportive women: look on social networks, in a birthing centre, through prenatal classes, midwives, doulas, or prenatal yoga instructors. Often women will gather to honour a mama they have only just met, to make her feel welcome in a new city. Some of us met their best mama friends through the Blessingway.
Once you have the women and the place, think of the children. Nursing mamas usually come with their babies. Ideally you would ask people to try finding childcare for older children (often partners can look after them as Blessingway is a women-only event), so that the women can relax and share instead of addressing children's needs. However, we have all been in a situation where no childcare is available, or there are children living in the house where the Blessingway is held, or there is an activity for children to do in a different room that would not interfere, so be flexible.
As for any potluck, ask if anyone has any food allergies and see that the offending ingredients are either not involved or clearly marked in all the dishes. Also I would suggest coordinating dishes that everyone brings (or at least designating only one or two dessert people), otherwise you might end up with seven sets of cupcakes and no real food to eat. Make sure there are at least two or three healthy options, as there are pregnant and lactating women often present at a Blessingway, including the mama being celebrated. Plenty of water (and perhaps tea) are good to have as well, to keep everyone hydrated. In my experience, cheese, grapes, vegetables with hummus dip, and a fruit platter are some things that go over really well. Beyond that, get as creative as you would in any potluck.
It is good to plan the event for early afternoon (around 3-4pm), as pregnant mamas grow tired towards the evening. The best week day would be Saturday or Sunday, so that people who work regular hours can attend. If a Blessingway spans the dinner hour, women would not have to rush to a dinner at home after the gathering. An evening Blessingway is possible, but then you might have to start around 7pm, which means the pregnant mama might want to get a nap beforehand.
Set the expectation of positive energy and relaxation. Turn off the cell phones and put away the clock. Encourage everyone to be fully present and to enjoy the meal, the ceremony, the words and the ideas. Suggest that the women set the expectation with their families to be absent for 4-6 hours: that way no one has to rush home, and if the Blessingway ends earlier, they can make their way back without haste, still basking in the quiet energy of the ceremony.
Depending on what you would like to do, you might need the following:
For the Blessingway necklace, you would need:
A string with enough length to add a closure if required. Thread is ok, but string is stronger and holds larger beads and stones more reliably. If you have a thread, double-thread it.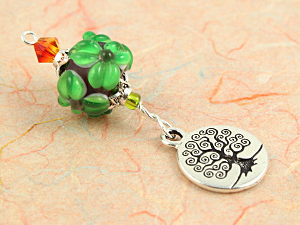 Each woman would need to bring a Blessingway bead, which could be anything with a hole through it that resonates with her, whether it is the colour, or the texture, or the meaning of the stone, or the design. Make sure there is a hole to string the bead through (some stones are not drilled-through). The beads are generally on a bigger side, about 1.5cm in diameter or more, so that all together they can make a necklace that is long enough.
It is good if each woman also brings a saying, a wish, or a few lines of wisdom to share as she adds the bead to the necklace. It is good to note the meaning of the bead, if any. For instance, Birth Goddess is a self-explanatory symbol, and so is the Tree of Life (which mimics a placenta), yet certain stones have specific meanings that might not be widely known.
Have some tissues handy, as emotions often surface during this sharing of love, support, and wisdom.
If you wish to wash mama's feet, I suggest a basin (which the house hosting the Blessingway might already have), access to water, and if you wish a couple of drops of essential oil or some flower petals, to make the ceremony more festive. A towel to dry off and gentle cream or shea butter to put on mama's feet are also good.
If you wish to give mama a massage, some massage oil would be good. A sarong might be good, if the shoulders of her top need to be lowered, to protect the rest of the clothing from the oil. Really, any sheet would do, but sarong designs are beautiful and often bring more peaceful feel to the occasion.
If you wish to brush mama's hair, you might want to ask her to bring her brush, or you can get a new one and give it to her as a gift. Another idea is a gift of a dry body brush, and gently brushing the pregnant mama's feet, legs, arms, and back. Body brushing feels wonderful, really wakes up one's senses and feels one with energy.
If the mama wishes to give other women candles to light when she is in labour, she can bring a box of candles with her, or you could provide one as part of the Blessingway organization – whatever feels right.
If you wish to draw a henna belly design, you would need to prepare henna beforehand. Some kits require you to soak henna overnight. Others come in frozen cones that need to be defrosted a couple of hours before use. I suggest talking to someone who works with henna – perhaps with someone in a nearby health store, an aromatherapy supply store, or with an artist.
Some ceremonies involve gentle circle dancing or singing. If you are planning to do that, make sure you have the music ready and, if needed, enough copies of the lyrics printed out for everyone to participate.
These suggestions might seem daunting, but remember – you can incorporate as few or as many ideas as you like, and have the ceremony be as elaborate or as simple as feels right for the mama and the women involved. At its core, the Blessingway ceremony is about sharing love, food, and wisdom.
All of these ideas are just suggestions based on what I have seen work best. If you cannot find a time during the weekend and can only find, say, five women, and the place to gather is small, and the kids are present, it is still better to hold a Blessingway than not to. The energy, the love, the support are what counts, and the rough edges in the logistics tend to fade out of memory while the thought and love are remembered.