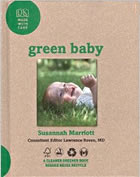 Title: Green Baby
Author: Susannah Marriott
Source: Midwifery Collective
ISBN: 9781402200144
Available online
Notes: This book is packed with generic statements, statistical quotes, and once in a  while some useful tips regarding baby-related cleaning, diet, diapering, toy selection, etc. Each section starts with a description of the most significant ecological problems regarding a particular area of parenting, and goes on to more specific suggestions on what constitutes "light" to "heavy" green choices.
Clothing: the author suggests hemp, bamboo, wool, and organic cotton as best fabrics. For washing clothing, use 40°C for most loads, cold water for woolens and delicates, and 60°C for heavily soiled items. Line-dry the clothing in the sun when possible (yeah, that works well in Canada in winter).
Food: eat organic whenever possible to avoid pesticides and other additives. Start baby on finger foods instead of purees: less likely to be fussy eaters as they learn to cope with texture and taste of real foods instead of sweet bland purees. Try food cut in a "french fry" manner for easy grasping: steamed broccoli or carrot, roast squash or a hunk of "real" bread perhaps smeared with some hummus or avocado. Eat as a family – no TV, no books or toys, eat the same food as your child.
To make a puree:
Wash produce, scrubbing well with a specially designated brush, peel all non-organic orchard fruit and root vegetables, remove seeds or pits, or core fruit;
Steam for a few minutes until quite soft but not falling apart, or simmer in a scant amount of water;
Grind with the hand-powered mill;
Spoon enough for one meal into the baby bowl, adding milk or cooking water if necessary;
Store remainder in the fridge in lidded glass jars for up to two days or freeze immediately in a non-plastic ice-cube tray (label with date, use within 6 months).
Organic must-haves:
dairy foods – fat-soluble toxins accumulate in them easily;
meat – free of non-therapeutic antibiotics and growth-promoting hormones;
fruit – isn't waxed or dosed with fungicides after harvesting;
salad leaves – non-organic lettuces are sprayed with lots of pesticides, washed salads are chlorine-rinsed;
oily fish – wild salmon and organically farmed salmon and trout contain fewer PCBs;
sugary foods – normally sugar beets are heavily sprayed and sugar can production is very polluting;
bread – free from flour- and dough- improving artificial chemicals and bleaching agents;
whole grain – free from pesticides.
Ingredients to avoid:
soy – may be GM without being labelled as such, unsustainable production;
sweeteners – saccharin is listed as an "anticipated carcinogen", aspartame can be neurotoxic; high-fructose corn syrup has been linked to diabetes;
trans-fats ("partially hydrogenated fats") – no nutritional value, associated with heart disease;
synthetic dyes (especially FD&C Yellow No. 5, FD&C Yellow No. 6, and FD&C Red No. 40) – when mixed with the preservative sodium benzoate these are linked to hyperactivity in children;
preservatives – are associated with health risks: BHA, BHT, sodium nitrite, sodium nitrite, potassium nitrate, sulfur dioxide, sodium sulfite, sodium metabisulfite, potassium metabisulfite, MSG.
Superfoods for breastfeeding:
fruit and vegetables (more than 5 a day) – green leafy, orange, red, yellow;
oily fish (twice a week) – smaller fish with fewer toxins: sardines, herring, anchovies;
whole grains (organic loaves, organic oats, spelt);
dairy produce (especially yogurt) – organic, free from hormones.
"Dirty dozen" when it comes to pesticides (better to buy organic):
peaches,
apples,
bell peppers,
celery,
nectarines,
strawberries,
cherries,
lettuce,
grapes,
pears,
spinach,
potatoes.
Easy crops to grow on your own:
tumbling cherry tomatoes in hanging baskets;
potatoes or garlic in half-barrels;
carrots in large pots;
lettuces and green onions in a window box;
blueberry bushes in pots of ericaceous soil;
soil-planted apple trees native to the region;
basil raised from seed on a window sill (incredibly difficult to keep alive to my knowledge);
alfalfa sprouts in a jar.
Cleaning products to toss:
cleaning fluids containing glycol ethers, terpenes, or limonenes (pine or citrus scents) – they create toxic air conditions in confined space;
air fresheners – babies exposed to them are more prone to ear infections and diarrhea;
chlorinated ingredients – chlorine reacts with organic materials to create compounds hazardous to the environment;
anti-pest products – likely to contain pesticides;
antimicrobials – don't clean better than soap and water, banned in some hospitals as it is feared they lead to superbugs;
aerosols – neuro- and reproductive toxins and respiratory irritants are blasted directly into the respiratory tract.
Green cleaners:
white vinegar – dilute with water to make a wipe for surfaces, glass, and tiles, or use full-strength to unclog showers and sinks;
lemon juice – degreases and bleaches cutting boards and surfaces;
salt – scouring baked-on food or washing dishes;
spices – simmer a handful to scent your home (cinnamon sticks, cloves, fresh ginger root, cardamom seeds, star anise, slices of lemon, lime, orange);
bicarbonate of soda – mix into a paste for sinks and tubs or sprinkle into the toilet bowl, add white vinegar, and scrub;
microfiber miracle cloths – dampen and rub: need no solvent or detergents to clean grease and stubborn stains, wash in the washing machine when dirty;
wet-dusting solution – mop with liquid Castile soap, then rinse with water plus 10 drops essential oil of grapefruit;
raise a plant – many broad-leaved house plants neutralize airborne toxins like formaldehyde and benzene;
shake and vac – sprinkle bicarbonate of soda over carpet, leave for a couple of hours, then vacuum;
toilet-seat spray – add 10 drops of antibacterial tea tree essential oil to water in a mister, shake, then spritz.
Washing the baby – "topping and tailing":
Undress baby to the waist, wipe face and around neck creases with a damp, warm washcloth, dry with a warmed towel. Wipe each eye from centre outward with moistened cotton balls, repeat on nostrils if necessary.
If baby's hair needs freshening up, dampen the washcloth and wipe from the front of the head to the nape of the neck, pat dry with a warm towel.
Wipe the baby's hands and under arms with the washcloth, pat dry. If baby has areas of dry skin, rub on some organic olive oil. Clothe the upper body.
Undress baby from the waist down. Moisten another washcloth, wipe the bottom from front to back. Pat dry with a towel then rub a little of the olive oil on any areas of diaper rash. Put on a clean diaper and dress the baby.
Natural soothing strategies:
darkness during the night and outdoor light in the day;
constant noise or music rather than silence;
swaddling;
ambient temperature (20°C) with bedding of one sheet and two layers of blanket;
daytime naps;
a set bedtime;
bedtime routine teaches a baby to anticipate sleep;
put baby to bed still awake so they learn to drift off without you and be able to do that at night.
Toys: Clean toys with the child so they learn the importance of taking care of their things. Avoid battery-powered toys (hard to recycle) and electrical toys that guide the child to press buttons or have right/wrong answers (may discourage creativity, undermine basic motor skills, and shorten attention span). Only plastic that can be recycled is marked with "2", "4", and "5". The rest cannot be recycled and will spoil all the other plastic in the same batch.
Green toys:
Lego – indestructible, free of phthalates, no-PVC policy;
Playmobil – no-PVC policy;
Käthe Kruse dolls – handcrafted form wood, can be repaired;
Brio train set – choose wood, but all Brio products are PVC-free;
IKEA toys – PVC-free, free from iffy woods and dyes;
wooden dollhouse, fort, or puppet theatre – collecting the accessories and dolls separately adds to the adventure;
metal construction toys – durable and can be added to.
Key features of green books:
FSC certification – paper has been sourced from responsibly managed forests;
greener inks – soy- and vegetable-based;
water-based glues – safer;
less bleaching – processed chlorine-free (PCF), which substitute oxygen-based compounds instead;
avoid plastic – tend to be made from nonrenewable petrochemicals made flexible with phthalates.
To stay safe in the sun, avoid sunscreen (penetrates the skin) as opposed to sunblock (usually contains zinc or titanium dioxide that sit on the skin's surface deflecting the UV rays, usually turns skin white). The best alternative is a wide-brimmed hat and coverup breathable clothing. Hemp is naturally UV-resistant. Give the child sun-protective fruit and vegetables (red, orange, yellow). Use a sunshade, and plan outdoor play before 11am and after 4pm when the sun is less strong.