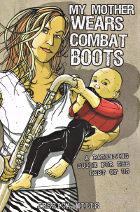 Title: My Mother Wears Combat Boots: A Parenting Guide for the Rest of Us
Author: Jessica Mills
Source: Midwifery Collective
ISBN: 9781904859727
Available online
Notes: A very thorough, well-researched, and informative book written by a punk musician and activist interested in raising her child in a way that promotes free thinking and discourages consumerism. This book is so full of useful advice and links to more information that making notes on it would result in me writing an article having the length of half the book itself. I found it so useful that I have decided to buy a copy of the book (I had borrowed the one I read).
The topics covered include medical birth interventions, newborn care, breast-feeding, co-sleeping, babywearing, cloth diapering, gender-coding, battling isolation, going back to work, exploring thrift stores for clothing, selecting first foods, weaning, setting up a "yes" environment for the child, organizing cooperative childcare and schooling, breaking the gender stereotypes of parental roles, TV exposure, touring with a child, cursing, discipline, disagreements with the child on fashion, safely marching in protests with children, setting up an art centre at home, critical analysis of marketing and media with a child, and getting away for a break without a child.
The book also contains several interviews of band members that toured with their children, and accounts of the author's travels with her child. The resources section includes many links (in addition to those scattered throughout the book) and documentation samples for establishing cooperative daycare and school.