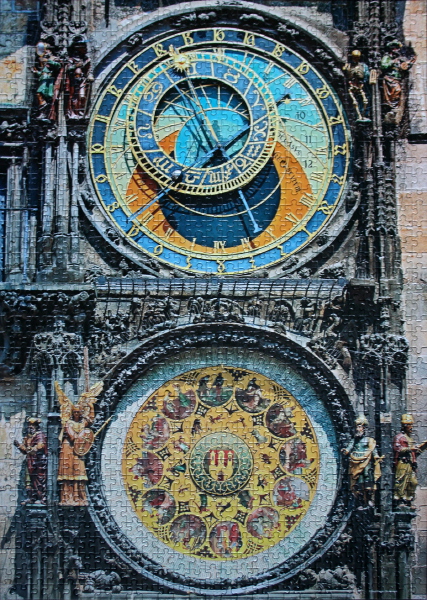 Size: 1000 pieces
Dimensions: 48.1 cm x 67.95 cm
Producer: Mega Puzzles, Structures series, 2013, No. 50941AAN, A 27053 PP
Puzzle: Beautiful puzzle, somewhat complex due to many similar grey parts: good lighting is a plus. The obvious areas to start with, are the blue and yellow circles of the clocks and the framing surrounding them. The colourful figures on the sides and the wall can follow. The rest of the pieces are then easier to fit in, guided by the completed coloured areas – one can use the vertical and horizontal guides of the columns and the ledge between the two parts of the clock.

Notes: The Prague astronomical clock, or Prague orloj, was first installed in 1410, making it the third-oldest astronomical clock in the world and the oldest one still working. The Orloj is mounted on the southern wall of Old Town City Hall in the Old Town Square. The clock mechanism itself is composed of three main components: the astronomical dial, representing the position of the Sun and Moon in the sky and displaying various astronomical details; "The Walk of the Apostles", a clockwork hourly show of figures of the Apostles and other moving sculptures—notably a figure of Death (represented by a skeleton) striking the time; and a calendar dial with medallions representing the months.  [Wiki]