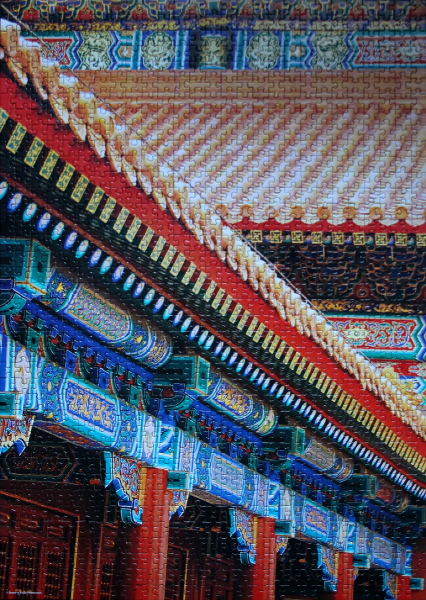 Size: 1000 pieces
Dimensions: 48.1 cm x 67.95 cm
Producer: Mega Puzzles, Structures series, 2013, No. 50941AAN, A 27053 PP
Puzzle: Another puzzle from the Structures series (see Astronomical Clock, Prague, Czech Republic, Galleries Lafayette, Paris, Sri Mariamman Temple and Church of the Savior, St. Petersburg for more).

To be honest, I did not expect this puzzle to be that interesting: from the box it looked like the too-bold lines of a too-bright building with too few detailed areas to make it interesting. It has, however, pleasantly surprised me. I've enjoyed following the diagonal and horizontal guide lines of the structure and the small details that revealed themselves during assembly.
I have started with the red horizontal, vertical, and diagonal regions, and built on them: each band of a different texture and colouring following the bands above or below it. The remaining regions are distinct and separated enough to be quite simple for a 1000 piece puzzle.
Notes: Unfortunately, the puzzle box does not indicate which temple is depicted on this puzzle. If you have any information on that, I would love to know.