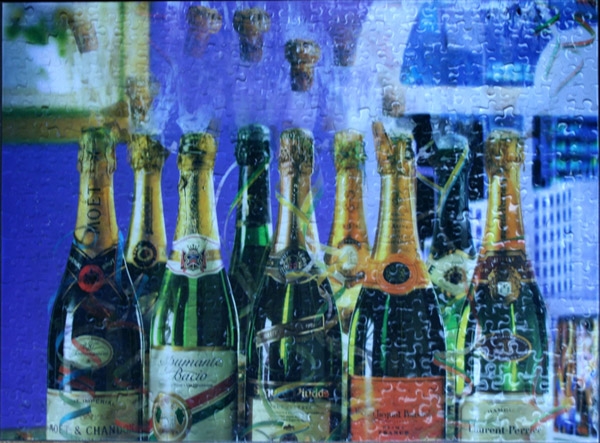 Size: 500 pieces
Dimensions: 48cm x 36cm
Notes: I do not have a record of the producer of the puzzle as I do not have the box anymore. A clarification is welcome – if you have any clue as to the details regarding this puzzle, I would much appreciate that information.
Champagne is a sparkling wine produced by inducing the in-bottle secondary fermentation of the wine to effect carbonation. It is produced exclusively within the Champagne region of France, from which it takes its name. The primary grapes used in the production of Champagne are Pinot noir, Chardonnay and Pinot Meunier. Champagne appellation law only allows grapes grown according to appellation rules in specifically designated plots within the appellation to be used in the production of Champagne. [Wiki]
This puzzle looks like an array of  sealed champagne bottles from one angle, and an array of champagne bottles with their corks being popped out, spraying champagne, and falling spiral holiday ribbons.