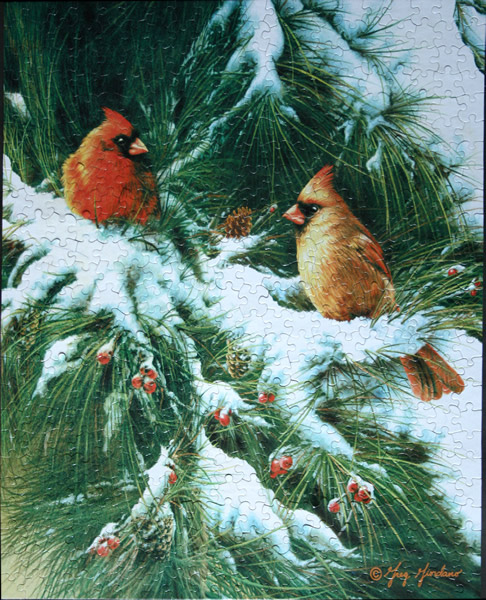 Size: 500 pieces
Dimensions: 40.64cm x 50.8cm
Producer: Karmin International, Birds of the Season series
Artist: Greg Giordano
Puzzle: One of the 4 puzzles in the box (first, second, third, fourth).
Notes: Birds (class Aves) are feathered, winged, bipedal, endothermic (warm-blooded), egg-laying, vertebrate animals. Around 10,000 living species makes them the most speciose class of tetrapod vertebrates. They inhabit ecosystems across the globe, from the Arctic to the Antarctic. Extant birds range in size from the 5 cm Bee Hummingbird to the 2.75 m Ostrich.
Modern birds are characterised by feathers, a beak with no teeth, the laying of hard-shelled eggs, a high metabolic rate, a four-chambered heart, and a lightweight but strong skeleton. All living species of birds have wings—the now extinct flightless Moa of New Zealand was the only exception. Wings are evolved forelimbs, and most bird species can fly, with some exceptions, including ratites, penguins, and a number of diverse endemic island species. Birds also have unique digestive and respiratory systems that are highly adapted for flight. Some birds, especially corvids and parrots, are among the most intelligent animal species; a number of bird species have been observed manufacturing and using tools, and many social species exhibit cultural transmission of knowledge across generations. [Wiki]