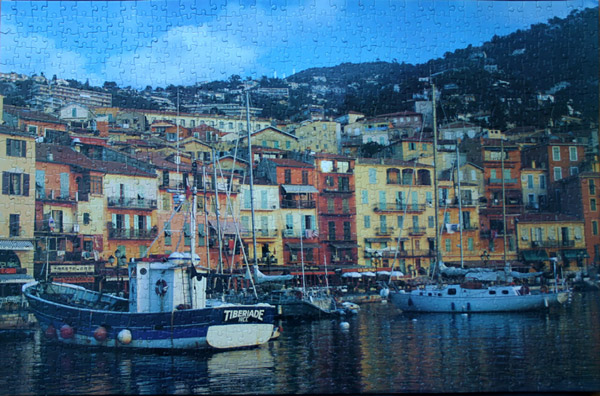 Size: 1000 pieces
Dimensions: 73cm x 48.5cm
Producer: Sure-Lox, The Canadian Group
Notes: The Cote d'Azur, often known in English as the French Riviera, is the Mediterranean coastline of the southeast corner of France, also including the sovereign state of Monaco. There is no official boundary, but it is usually considered to extend from the Italian border in the east to Saint Tropez, Hyeres or Cassis in the west.
The French Riviera coastline covers 560 miles and consists of both sand and shingle beaches. Officially, the Cote d'Azur is home to 163 nationalities with 83,962 foreign residents, although estimates of the number of non-French nationals living in the area are often much higher. Its largest city is Nice, which has a population of 347,060 (2006).
The name was given to the coast by the writer Stephen Liegeard in his book, La Cote d'azur, published in December 1887. Liegeard was born in Dijon, in the French department of Cote-d'Or, and adapted that name by substituting the azure blue colour of the Mediterranean for the gold of Cote-d'Or. [Wiki]