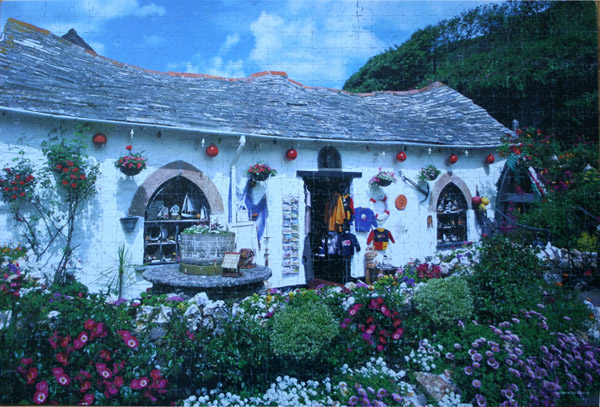 Size: 1000 pieces
Dimensions: 67.31cm x 47.9cm
Producer: Milton Bradley, FoamFit series, #50653-02
Notes: Boscastle is a village and fishing port on the north coast of Cornwall, England, in the civil parish of Forrabury and Minster. The name of the village derives from Botreaux Castle, (pronounced "But'ry") a 12th century motte-and-bailey fortress, of which few remains survive. The castle was anciently the possession of the de Botreaux family, which became under William de Botereaux(d.1391) Barons Botreaux.
Boscastle harbour is a natural inlet protected by two stone harbour walls built in 1584 by Sir Richard Grenville (of HMS Revenge). It is the only significant harbour for 20 miles (32 km) along the coast. As well as being a fishing harbour, Boscastle was once a small port (similar to many others on the north coast of Cornwall) importing limestone and coal and exporting slate and other local produce. [Wiki]