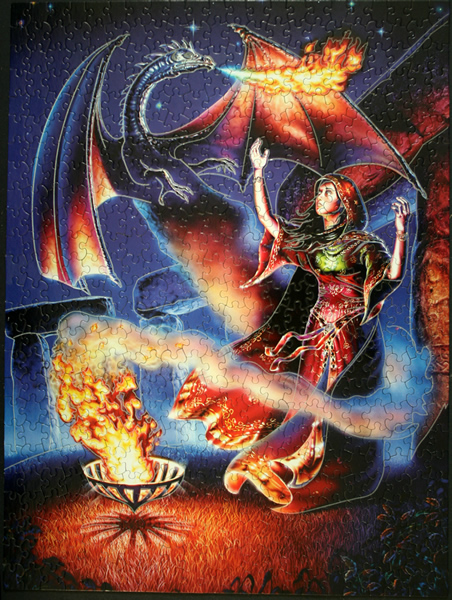 Size: 550 pieces
Dimensions: 61cm x 46cm
Artist: David Penfound
Producer: Ceaco, Glow in the Dark series, #2333-43
Puzzle: The dragon's wings, flames, the firepit, and the woman's robes are distinct enough to allow for these regions to be filled first. Dragon's neck, the smoke, and the rest of the figure follow, leaving a few black, dark blue, and dark leafy regions to complete the puzzle. Overall, as with most 550+piece  Ceaco puzzles, the differing shapes of large pieces makes this puzzle easy to complete.
Dragon: A dragon is a mythological representation of a reptile. In antiquity, dragons were mostly envisaged as serpents, but since the Middle Ages, it has become common to depict them with legs, resembling a lizard.
Dragons are usually shown in modern times with a body like a huge lizard, or a snake with two pairs of lizard-type legs, and able to emit fire from their mouths. The European dragon has bat-like wings growing from its back. A dragon-like creature with wings but only a single pair of legs is known as a wyvern. [Wiki]