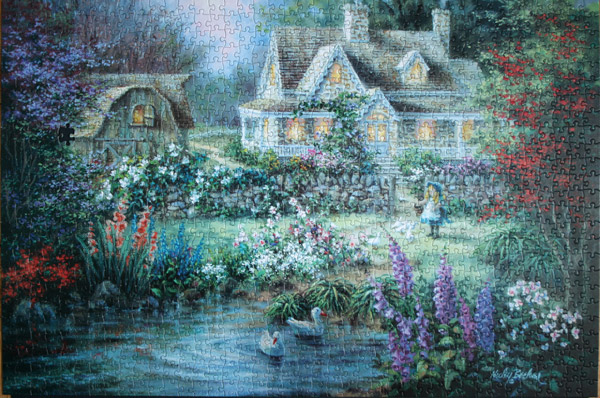 Size: 1000 pieces, 1 missing
Dimensions: 73cm x 48.57cm
Producer: The Canadian Group, Sure-Lox, #44714-2
Artist: Nicky Boehme
Notes: There are three living genera of true geese: Anser, grey geese, including the domesticated goose and the Swan Goose; Chen, white geese (often included in Anser); and Branta, black geese, such as the Canada goose.
The term goose applies to the female in particular while gander applies to the male in particular. Young birds before fledging are called goslings. The collective noun for group of geese on the ground is a gaggle; when in flight, they are called a skein, a team or a wedge; when flying close together, they are called a plump.
Geese are monogamous, living in permanent pairs throughout the year; however, unlike most other permanently monogamous animals, they are territorial only during the short nesting season. Paired geese are more dominant and feed more, two factors that result in more young. [Wiki]