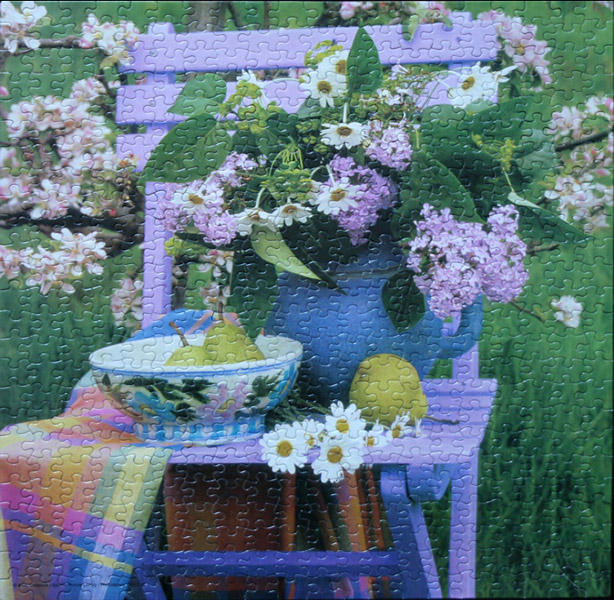 Size: 500 pieces
Dimensions: 40.64cm x 40.64cm
Producer: Hasbro, MB Puzzle, Big Ben series
Notes: Syringa (Lilac) is a genus of about 20–25 species of flowering woody plants in the olive family (Oleaceae), native to woodland and scrub from southeastern Europe to eastern Asia, and widely and commonly cultivated in temperate areas elsewhere.
The usual flower colour is a shade of purple (often a light purple or lilac), but white, pale yellow and pink, and even a dark burgundy color are also found. The flowers grow in large panicles, and in several species have a strong fragrance. Flowering varies between mid spring to early summer, depending on the species. The fruit is a dry, brown capsule, splitting in two at maturity to release the two winged seeds.
Lilacs are popular shrubs in parks and gardens throughout the temperate zone. In addition to the species listed above, several hybrids and numerous cultivars have been developed. The term French lilac is often used to refer to modern double-flowered cultivars, thanks to the work of prolific breeder Victor Lemoine. Lilacs will grow in a wide variety of soil types and prefer neutral to slightly acidic soil. [Wiki]