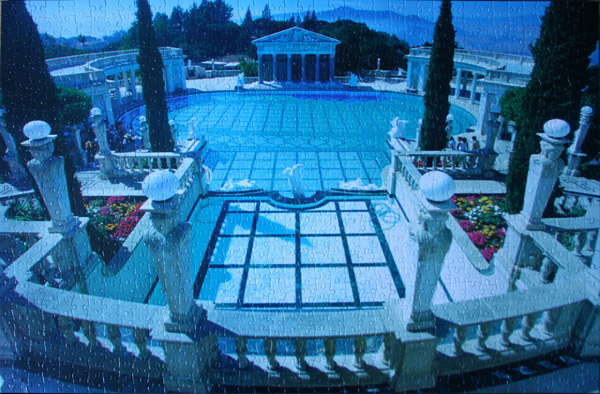 Size: 1000 pieces
Dimensions: 73cm x 48.6cm
Producer: The Canadian Group, Sure-Lox
Notes: Hearst Castle is a National Historic Landmark mansion located on the Central Coast of California, United States. It was designed by architect Julia Morgan between 1919 and 1947 for newspaper magnate William Randolph Hearst, who died in 1951. In 1957, the Hearst Corporation donated the property to the state of California. [Wiki]
Depicted on the puzzle is the Neptune Pool.
Construction for the Neptune Pool spanned 1924-1936. Three swimming pools were built on this site, each successively larger.
Unique aspects of the Neptune Pool include the oil burning heating system, the light-veined Vermont marble decorating the pools and colonnades, and four 17-century Italian bas-reliefs on the sides of the colonnades. [Hearst Castle site]