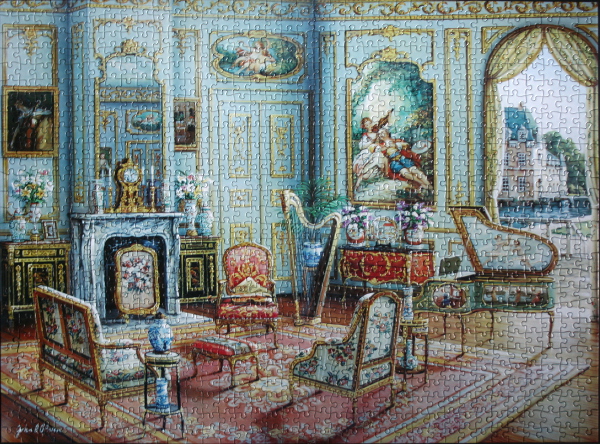 Size:  1000 pieces
Dimensions: 51 cm x 69 cm
Artist: John O'Brien
Producer: Empire, Puzzle Makers, Rooms with a View collection, #64020-001

Puzzle: Leisurely puzzle to make, with pieces fitting together reasonably well. Many possible places to start: vertical guidelines of the gold embellishments on the white walls, the opening into the street with buildings and draperies, the border of the floor and the rug, the red regions of the furniture and the darker regions of the paintings, the fireplace, and the side tables with flower vases. The harp and the piano, the furniture pieces, and the rug can then follow, and the rest is relatively simple. Lots of little details, visually a very rich puzzle for the eyes.

Notes: A concert hall is a place where concerts of classical music take place. [Wiki]