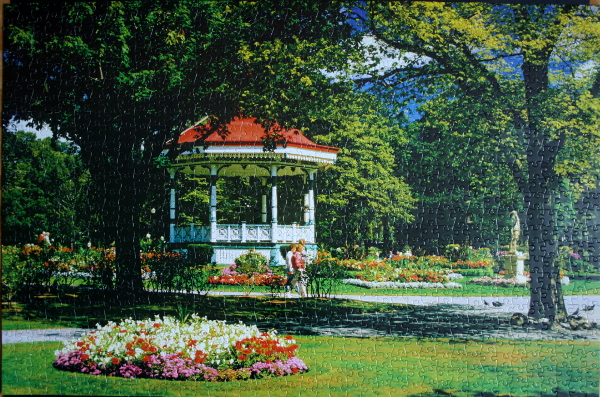 Size:  1000 pieces
Dimensions: 73 cm x 48.57 cm
Producer: Sure-Lox, The Canadian Group, Glorious Gardens series,  2011, #40660-6

Puzzle: The gazebo, flowerbed, and grey walkways are a good place to start. Tree trunk on the right can serve as a vertical guideline. The blue of the sky, smaller garden details, and the green of the lawns can follow. From there, the remaining black parts can pave the way to the green tree leaves. Overall a pleasant puzzle, although my copy was strangely cut and unlike the usual Sure-Lox fit, the pieces did not stick together very well.
Notes: A garden is a planned space, usually outdoors, set aside for the display, cultivation, and enjoyment of plants and other forms of nature. The garden can incorporate both natural and man-made materials. Western gardens are almost universally based on plants, with garden often signifying a shortened form of botanical garden.
Some traditional types of eastern gardens, such as Zen gardens, use plants such as parsley. Xeriscape gardens use local native plants that do not require irrigation or extensive use of other resources while still providing the benefits of a garden environment. Gardens may exhibit structural enhancements, sometimes called follies, including water features such as fountains, ponds (with or without fish), waterfalls or creeks, dry creek beds, statuary, arbors, trellises and more. [Wiki]