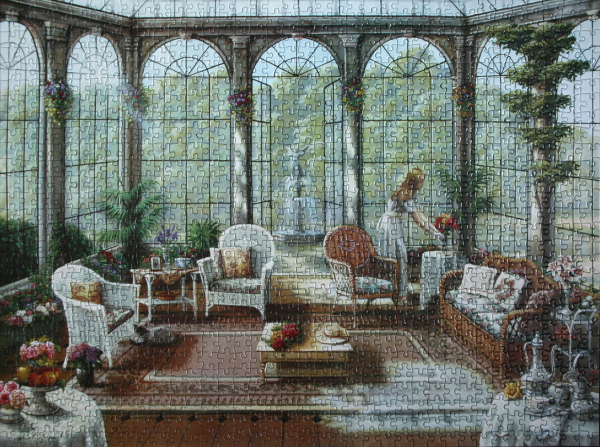 Size:  1000 pieces
Dimensions: 51 cm x 69 cm
Artist: John O'Brien
Producer: Empire, Puzzle Makers, Rooms with a View collection, #64020-001

Puzzle: Beautiful puzzle, gentle colours, the pieces fit together well. The repetition of the window parts makes for a bit of a challenge to assemble the  largely-similar window grids, but there is enough variation in the room furnishings bordering the backdrop to make the assembly enjoyable. I have started with the window tops and continued with windows themselves, although it might be easier to first focus on the armchairs and sofa, corner tables, plants, the rug and the floor. Either way the large sections separating the windows provide good vertical guides whereas the rug pattern and the rug/floor border make for horizontal guides that can direct the assembly.