Menstrual cycle discussions have long been a taboo in the Western society. So much so, that girls entering puberty have little idea what it entails, as even their mothers are hesitant to speak about menstruation. As a result, women struggle to understand their cycle, have trouble coping with period irregularities and pain, and often treat their moon time as a nuisance. We need to reclaim this lost knowledge: it can help us take charge of our fertility, learn to live in harmony with our cycle, and welcome our daughters into womanhood.
We grow up so disconnected from our own rhythms, in a culture that teaches to suppress our own instincts in favour of external priorities. We lose touch with what our bodies tell us, we push ourselves too hard, and end up with menstrual cycle irregularities that often lead to fertility issues. There are groups of women all over the world organizing Red Tents once a month, where women gather in circles and share their triumphs and their worries. We talk about getting in tune with your cycle, understanding how your body works, and harnessing the strengths of each stage of the cycle to seize control of your fertility, creativity, productivity, and to know thyself.
One of the ways to get in touch with your cycle, is to keep track of where you are in it. Certain times of the month call for rest, others for undertaking complex projects, yet others for socializing. There are various charts and calendars a woman can use to follow her cycle.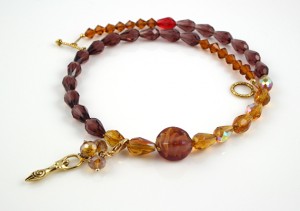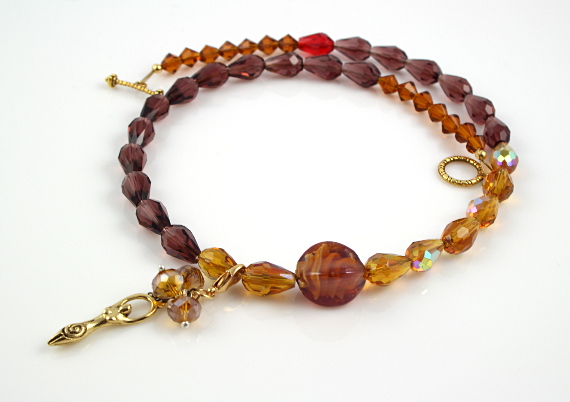 Learning about the moon cycle, I got inspired to create something beautiful, deeply personal, yet not necessarily known to an external eye, – a piece of jewellery to wear with a movable charm to indicate where you are in your cycle. Such a bracelet or necklace can reside in a privacy of a bedroom, be worn openly as an accessory, or be used as a subtle reminder to our family members whether we are in need of more rest. These gemstone and crystal jewelled calendars can, of course, be used for fertility-awareness purposes. To know when your ovulation is lets you know when it is best to try conceiving or abstaining, whatever your reproductive goals are.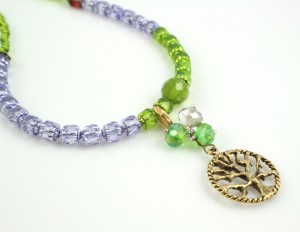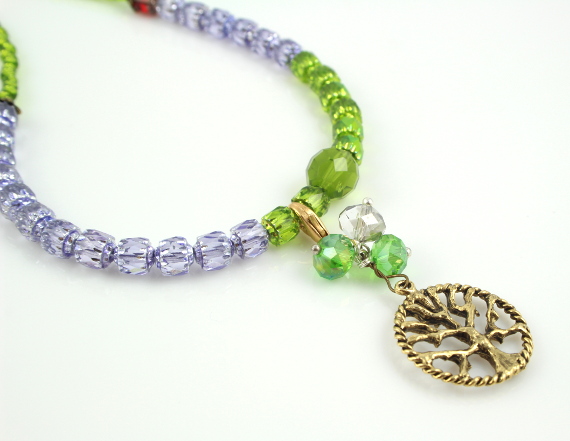 I have created moon cycle tracking necklaces and bracelets, using crystals, gemstones, and glass beads. I make them custom for each woman, based on her cycle length and ovulation date. There are a variety of movable charms and colour combinations to choose from. The necklace length differs depending on the cycle length, but can be adjusted to be longer.
The gemstone I use to make the bracelets
Red Carnelian is said to stimulate and balance the female reproductive system, reduce stress and anxiety, and help protect against miscarriage.
Labradorite symbolizes the moon and the sun, and is known for promoting strength, reducing stress and anxiety, assisting with digestion, and transformation.
Unakite is said to promote healthy pregnancy and delivery.
Garnet is said to promote devotion, bring love and compassion, balance sex drive and emotions, and indicates commitment to a purpose, as well as clarity of thought and intention.
Agate is a stone of relaxation and calm. It assists in grounding, pain relief, and balancing Yin and Yang energies.
Lapis lazuli aids in harmony, inner peace, and healing, strengthens bonds and brings self-confidence.
Amethyst is said to bring stability, strength, and peace, promote balance and healing, and reduce stress.
Aventurine is said to bring love, promote luck, optimism, self-confidence, and happiness, encourage pregnancy and enhance fertility.
Malachite is said to bring luck, promote physical healing, encourage creativity and transformation.
Chalcedony is said to bring tranquility and optimism and to promote lactation in nursing mothers.
Moonstone is known for balancing emotions, regulating menstrual cycle, boosting female energy, and calming anxiety. It is said to bring love and grant wishes.
Snow Quartz promotes peaceful sleep and soothing dreams, and is associated with empathy and harmony.
Turquoise is associated with protection, strength, alleviating negativity, grounding, and courage. It is believed to bring love and luck.
Rose Quartz is protective in pregnancy and birth. It balances emotions, helps with emotional healing, and is associated with forgiveness, compassion, and releasing anger and fear.
The charms and their symbolism
Tree of Life – immortality and fertility
Birth Goddess – fertility, birth and growth
Butterfly – fertility, rebirth, transformation
Turtle – fertility, longevity, good fortune
Key – liberation, knowledge, initiation, way to one's heart
Horseshoe – good luck and protection
Dragonfly – joy, lightness of being, good luck, transformation, and harmony
Frog – fertility, love, giving birth to new life
Elephant – fertility and pregnancy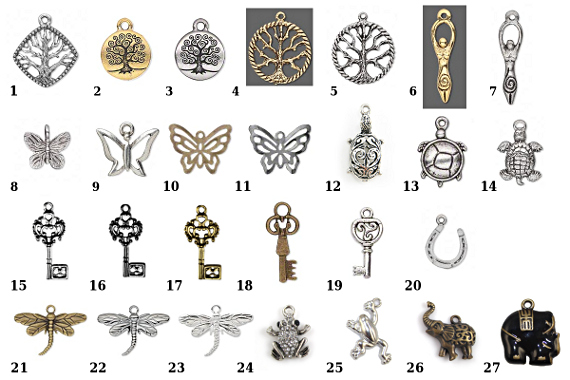 How to use your moon cycle tracking necklace or bracelet
I have also designed a card explaining how to use the moon cycle tracking necklace or bracelet which I send along with the order.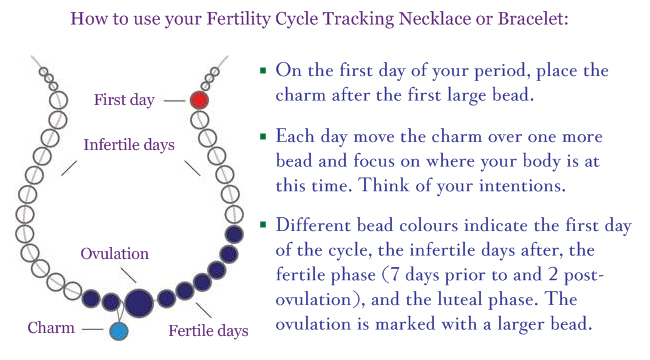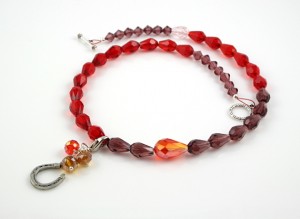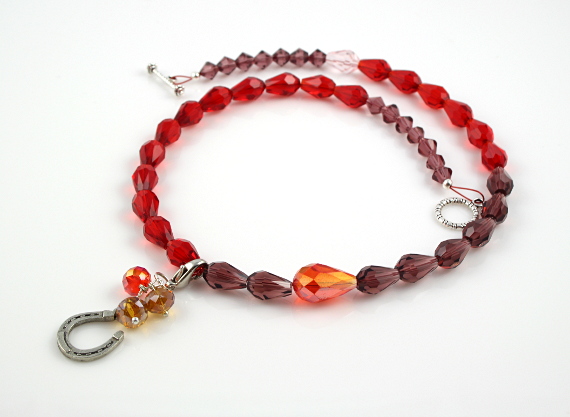 Example: a 28-day cycle with ovulation on day 14. First day of the cycle is indicated by a single pink bead, followed by 6 more non-fertile days, then 9 fertile days in wine colour (7 days prior to ovulation and 2 post-ovulation), ovulation itself is marked by a larger crystal. The necklace is completed by 12 non-fertile days of the luteal phase. The smaller beads pad the necklace so it can be long enough for wear.
Whether your goal is to conceive, to avoid pregnancy, or to get in touch with your cycle, these necklaces and bracelets are a stylish personal way to keep track of your cycle and your fertile days. Take a minute each day to move the charm and focus on where your body is right now in its natural rhythm.