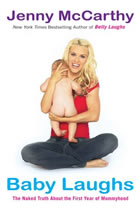 Title: Baby Laughs: The naked truth about the first year of mommyhood
Author: Jenny McCarthy
Source: Ottawa Public Library
ISBN: 9780452287198
Available online
Notes: This book is full of justifications of an "average person's" complete lack of knowledge of how to deal with a baby, the mother's changing body, and the family's change in roles. The author is trying to be funny, but most supposedly humorous statements come across as obnoxious and overstated.
The author's delivery was described as three and a half hours of pushing with everyone around her chanting "push!" (an enlightened approach) while she didn't feel anything due to an epidural (which she calls a "one great thing about all of this"), followed by trying forceps and vacuum, and ending up as an emergency Caesarian. She did not breastfeed due to concerns with breast implants. The circumcision decision was made on the basis "like father, like son".
This discouraging beginning of the book was compounded by the description of the baby's father handling the baby in a rough manner due to the husband "not quite understanding the concept of wobbly-head baby". The examples mentioned were tossing the 2-week old baby into the air, rolling on the ground wrestling with a 3-week old baby to "bond by doing some wrestling moves", wheeling the 3-week old around on a skateboard, and so on. I'm sorry, but the level of ignorance here is a bit overwhelming.
The rest of the "insights" were dealing with changes in lifestyle, being confused by baby care, dealing with extended family, body image, etc. Most of the information presented is quite obvious and falls within the domain of common knowledge.
Overall, a pretty useless book, possibly more interesting to people who wish to peek into a life of a celebrity than learn anything useful regarding baby care and postpartum.