The hand that rocks the cradle is the hand that rules the world.
— William Ross Wallace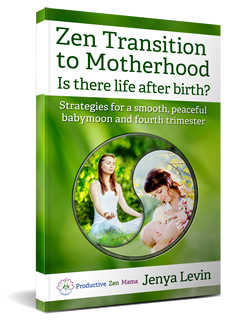 For over three years, I have attempted to consolidate the bits of knowledge pertaining to the first year of the baby's life: the challenges faced by the mama after birth, the baby care tips, the profound shift in perception of reality, coming into the new identity, and rebuilding daily routines around the new family structure. This year I have finally decided to put it into the form of an e-book, in hopes to help other mamas transition into this new phase of their life in a peaceful, loving way.
You might pick up this book while you are pregnant or shortly after you give birth. At its core there are gentle parenting principles and a common sense approach to reality. The key to productive zen is being present and enjoying the journey, and the book covers a variety of strategies for a smooth, peaceful babymoon and fourth trimester.
Stress has been shown to impact our health and ability to enjoy life. Stress is bombarding us every day in the form of external demands and internal pressures, and unless we learn to control the way we respond to stress, it can seriously affect our mental, emotional, and physical health. With the changing hormones and powerful emotions around the time of birth, we are so very vulnerable as new mamas — we need to find a way to get centered, to be present in each moment for ourselves, our babies, and our families.
In the book, I look in detail into the early postpartum weeks and discuss resources to let mama rest and recover after the birth, how to set up a meal train, address mama's and baby's health challenges, good supplies to have on hand, and ways to relax and find your center. The second part of the book goes into practical matters of harnessing the new routine, getting chores under control, mastering errands with the baby, and handling commitments. I also suggest many gentle ideas for entertainment and rest, so that we do not only feed our body, but feed our creative selves as well.
I hope that this book serves as a grounding, centering companion for new mamas. The book Zen Transition to Motherhood – Is there life after birth? is available for free at ProductiveZenMama.com.