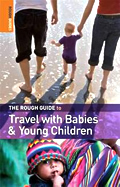 Title: Rough Guide to Travel with Babies and Young Children
Author: Fawzia Rasheed de Francisco
Source: Veddma library
ISBN: 9781843537045
Available online
Notes: This is a brief guide that covers preparation for travel, making the journey, being at your destination, and has some notes on specific countries in the "Travel the world" section. The author has travelled to many places with her two sons and she shares tips on bus, airplane, train, and car travel. This includes advice on getting time off school, travelling as a single parent, staying safe, saving money, travelling pregnant, paperwork, packing, entertainment, and so on. The chapter on being there covers various health conditions and ways to deal with them while travelling. The chapter that covers different parts of the world addresses some of the most prominent traditions, dress code, and attitudes that one will encounter.
Overall, this is a lightweight book packed with useful tips. When travelling with children, it would be a good idea to consult this guide in addition to seeking a more detailed guide for the particular location if it is unfamiliar.