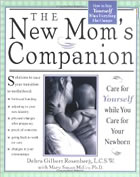 Title: The New Mom's Companion: Care for Yourself while You Care for Your Newborn
Author: Debra Gilbert Rosenberg, L.C.S.W. with Mary Susan Miller, Ph.D.
Source: Midwifery Collective
ISBN: 9781402200144
Available online
Notes: The author is a social worker and a mother of three. The book is organized as a series of questions from women on a particular topic, and the author providing an answer and/or advice on dealing with the issue raised in the question.
The book is broken into two parts: one that deals with issues that first-time mothers face with their changing self: their psyche and their bodies; and the second one dealing with the changes in relationships with the partner (the writer assumes a husband), the extended family, and friends.
I did not find the first part particularly helpful. In essence, the author dismisses most of the issues that are brought up that have to do with physical changes as something to be unconditionally accepted since "this body gave you a child, so be thankful" even if you have to endure some discomfort/pain/disfigurement. I realize that the approach of many social workers is to reassure the person that everything going on with them is normal; however, that does not make for a useful perspective for anyone who'd like to be more than complacent about the issue.
In answer to several questions (like changes in a woman's appearance) she reassures the reader that the only people who notice the change would be the woman herself and her husband, so no need to worry. Perhaps, my internal dialogue is significantly different from most women, but it seems to me that myself and my partner are the most important people in this, so the statement that no one else might notice the changes is meaningless: I'm the one to live in this body, so I am the one that has to be comfortable with it, not some random person on the street.
Her suggestions on the practical side of things are more useful: tips on streamlining your day, trying to be productive while taking care of the baby around-the-clock, dealing with a switch from full-time work to staying at home, and so on.
Things to do while at home with the baby to not feel completely insane include:
reading,
using Internet to connect with people,
going out with the baby (zoo, museum, coffee house, mall),
going back to work part-time or volunteering,
resuming an exercise routine,
seeing friends,
having a weekly baby-free outing (good luck finding a baby-sitter),
doing personal projects (either new or existing hobbies).
Things to try maximizing your efficiency:
be clear what is urgent and what is not;
break jobs down into smaller pieces that can be done separately;
keep a list for a week of what activities you perform every day to discover and exploit patterns in baby rhythms if any;
keep separate running lists for grocery (update once you run out of an item), hardware, drugstores ready to be brought for shopping trips;
use daily, weekly, monthly and "whenever there is time" lists;
combine tasks when possible;
have several stations with started projects, so you can get to any one of them without a long setup/cleanup time and do a bit at a time;
buy things in bulk when possible to save time and money.
Things to try keeping the baby occupied long enough to be able to complete a project:
use a ten-minute rule – if you pay attention to the baby for ten minutes, they often will be content to amuze themselves for another half-an-hour or more;
have designated toys for special situations (such as pulling out a particular stuffed toy only when you are on the phone: this will keep the toy novel enough and allow you to complete the activity);
talk to the baby while you work.
Things to try being on time:
plan outings ahead of time considering baby's nap, feeding and being pleasant times;
add 15 minutes to your travel time to load/unload the baby and their stuff into/from the car;
pack/update your diaper bag the night before;
do not carry a separate purse;
suggest a time interval instead of exact time for a meeting;
plan your route in advance;
don't plan activities in which promptness is essential;
plan to arrive at least 15 minutes early to deal with any emergencies;
plan with geography in mind: the fewer times you need to load/unload the car the better;
use delivery, drive-through, Internet, and mail whenever possible to save yourself time;
when the baby fusses, leave whatever you are doing – feed or comfort the baby and then come back to the activity once the baby is peaceful again.
The second part of the book dealing with relationships seems a bit more helpful (at least the inter-partner relationship tips) than the one dealing with physical changes, as it contains more practical suggestions on how to adjust to the new schedules, roles and responsibilities while keeping everyone involved relatively sane. Most of the extended family conflicts are reduced to the mother or mother-in-law being either too intrusive in their help, not able to help due to health/distance, or being appreciative of your own mother once you become one (not sure why this one is an issue and why people need special instructions on how to deal with it). Social relationship section can be summed up as: whoever your real friends are they will survive the time while you are preoccupied by ensuring your baby's continued survival, the other ones were not real friends.
The book ends with a smaller section dealing with issues of abuse, adoption (inter-racial, by straight and gay couples), medical issues with the baby and people's comments about all of the above. The general advice here seems to be that it's no one's business and you are free not to answer any questions or to only answer them with minimal detail or humour. The important thing to remember, is that if the comments/questions are made in the presence of your child, your response will have as much if not more influence on your child's sense of self and understanding of the situation as the comment itself.
Overall, the book is a bit preachy and resembles a session with a psychiatrist, but then that appears to be the goal of it. Aside from quite a bit of repetition in questions and responses, there are some good tips if one is willing to dig for them.