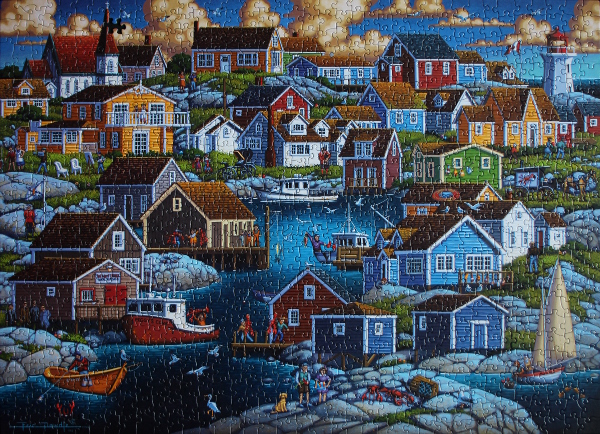 Size: 1000 pieces, 1 missing
Dimensions: 68 cm x 49 cm
Manufacturer: Dowdle Folk Art, IRM./ART. 981261
Original: painting
Box: photo
Artist: Eric Dowdle – Renowned folk artist Eric Dowdle captivates people of all ages with the wit, charm, and detail which is portrayed in his artwork. His quirky and infectious personality is represented in his collection of hundreds of scenes from the United States, and around the world. These paintings are highly valued by collectors and are distributed as high-quality prints, puzzles, and gifts.
Eric began painting in his early twenties and after just one year of college decided to part ways to "make something happen!" Making things happen is exactly what Eric has done and continues to do. Painting, exploring, and working day and night to expand his collection of distinctive folk art paintings is his passion.
As he has traveled the world to do research for his paintings, Eric has been exposed to numerous peoples and cultures. Since 2012, he has shared these experiences on the radio program "Traveling with Eric Dowdle" which is found weekly on Sirius XM 143. Eric and his team are currently in production for the television series "Painting the Town with Eric Dowdle" which premiered on public television in 2015. [Eric Dowdle site]
Puzzle: Lovely puzzle, brought to me by a friend. Wonderful to do in the early hours of the morning when the less-than-two-week-old baby decides to welcome the sunrise instead of sleeping. Beautiful rendition of Peggy's Cove.
Lots of possible places to start – the sky with the clouds, the ater, the green, yellow, and blue panels on houses, the orange roofs, the rocks, the lighthouse. Irregularly-shaped pieces add a bit of a challenge to otherwise quite an easy puzzle.
"See the world through the eyes of Eric Dowdle. His unique ability to capture the essence of the cities and places he paints has delighted people of all ages. His quirky, funny and infectious personality is represented in his art and he's known worldwide for his unique style. When you travel along with Eric, the artist and personality extraordinaire, you feel like you were transported to that location as he shares all that he experienced in that destination through his art. By the time you complete the puzzle, you are left with a warm and friendly view of the city that he portrays in each painting." [Puzzle box]
Save
Save
Save
Save
Save