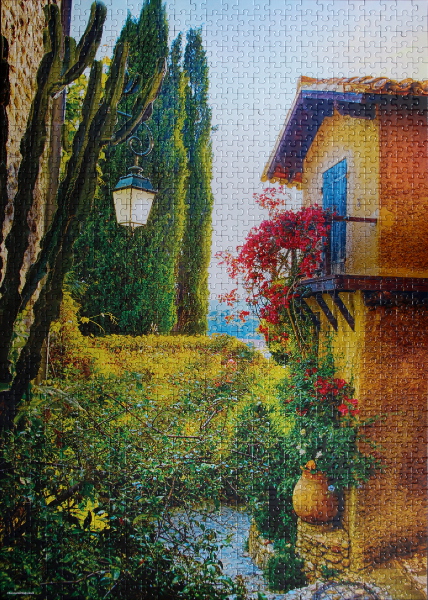 Size: 1000 pieces
Dimensions: 67.95 cm x 48.10 cm
Producer: Mega Puzzles, Vibrant series, 2014, No.51420ACN, A12054LP
Puzzle: This puzzle does not have a title or specify where exactly this place is. If you know, please do share.

Another one from the Vibrant series, this is a well-done puzzle with beautiful imagery. It combines bright colours and subtle shades, clear borders and soft transition, as well as a variety of textures to convey the feel of stone of the building, metal of the lantern, sky, bright flowers, sharp branches, prickly succulents, and soft grass. The differences in colour and texture make the assembly simpler.
Good starting points are the sky bordering the trees and the roof, the lantern light, the window shutters, red flowers, darker building wall, yellow grass bordering on green trees, the blue patch in the distance, and the succulents on the left. The trees, succulents, and wall borders provide vertical guides, whereas the balcony floor, grass-tree boundary and grass-pavement boundary act as horizontal guides.