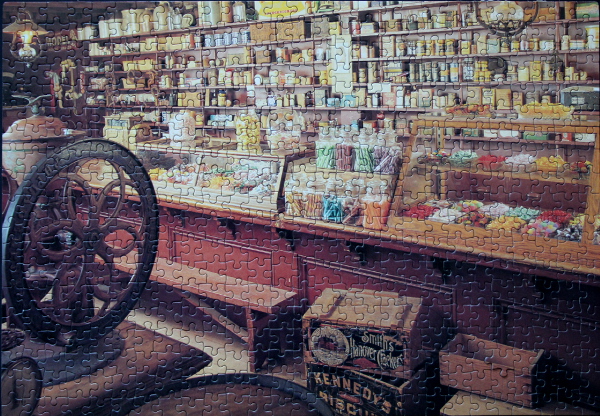 Size: 500 pieces
Dimensions: 35.24 cm x 50.48 cm
Producer: Milton Bradley (MB) Puzzle, Croxley series, 1995, 4611-3

Puzzle: First puzzle assembled in our new place — after all the moving and organizing, it was nice to get lost in the antique feel of this cozy store. The pieces fit together well, the puzzle is small enough to be simple to do, while a bit of challenge is being added by small repetitive detail of the merchandise shelves.
A good place to start is the wheel and the wooden bottom part of the display. The counter top separates the picture into top and bottom parts and provides a straight line guide around which the puzzle can be build. The colourful dishes with candy, the black boxes under the counter, the bench and the floor are good to tackle next. Then all that remains is to play with the tiny cans on shelves.