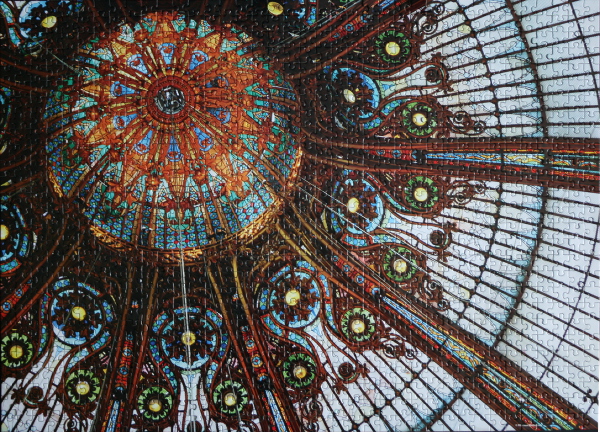 Size: 1000 pieces
Dimensions: 67.95 cm x 48.1 cm
Producer: Mega Puzzles, Structures series, 2013, No. 50941AAN, A 27053 PP
Puzzle: A non-trivial puzzle from the Structures series (see Astronomical Clock, Prague, Czech Republic and Church of the Savior, St. Petersburg for more), with a repeating radial pattern. Due to many similar regions and repeated geometrical patterns, this puzzle is challenging. The easiest place to start is the top left corner with the distinct orange, green and blue part of the dome, followed by its golden border and brown and golden thick supports that fan out of the dome, with flower patterns inside. Several white supports spreading from the dome can be used as guides. The yellow centres of the large flowers within the stained glass pattern can be positioned based on their differences, and the blue and green flowers can be assembled in place. The circular brown guides supporting the white and blue glass make it easier to complete the bottom right corner. Overall not a quick but an enjoyable puzzle to do, natural light is a plus.

Notes: The Galeries Lafayette (is an upmarket French department store company located on Boulevard Haussmann in the 9th arrondissement of Paris. In 1895, Théophile Bader and his cousin Alphonse Kahn opened a fashion store in a small haberdasher's shop at the corner of rue La Fayette and the Chaussée d'Antin, in Paris. In 1896, their company purchased the entire building at 1 rue La Fayette; in 1905 they acquired the buildings at 38, 40 and 42, boulevard Haussmann and 15 rue de la Chaussée d'Antin. Bader commissioned the architect Georges Chedanne and his pupil Ferdinand Chanut to design the store at the Haussmann location, where a glass and steel dome and Art Nouveau staircases were finished in 1912. [Wiki]