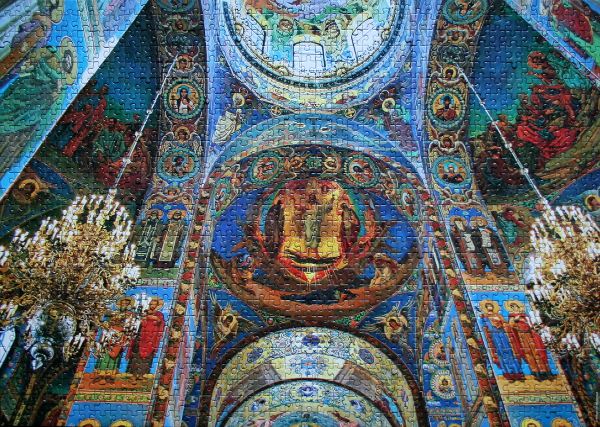 Size: 1000 pieces
Dimensions: 67.95 cm x 48.1 cm
Producer: Mega Puzzles, Structures series, 2013, No. 50941AAN, A 27053 PP
Puzzle: Another eye-candy puzzle from the Structures series (see Astronomical Clock, Prague, Czech Republic and Galleries Lafayette, Paris for more), with many distinct regions. There are many ways of approaching it: top semi-circle with windows, bottom light yellow semi-circle, central piece in reds, oranges, and yellows, winged by distinct blue regions, the chandeliers, the top corner regions separating distinct regions of colour by diagonal guides, flower border outlining the central area, the pillars with figures and horizontal flower borders, circles with faces. Once the distinct regions are done, they can be put together, and the rest of the pieces easily fit in. Beautiful puzzle, very enjoyable to do.

Notes: The Church of the Savior on Spilled Blood is one of the main sights of St. Petersburg, Russia. It is also variously called the Church on Spilt Blood and the Cathedral of the Resurrection of Christ, its official name. This Church was built on the site where Tsar Alexander II was assassinated and was dedicated in his memory.
The Church contains over 7500 square metres of mosaics—according to its restorers. The interior was designed by some of the most celebrated Russian artists of the day—including Viktor Vasnetsov, Mikhail Nesterov and Mikhail Vrubel — but the church's chief architect, Alfred Alexandrovich Parland, was relatively little-known (born in St. Petersburg in 1842 in a Baltic-German Lutheran family). The walls and ceilings inside the Church are completely covered in intricately detailed mosaics — the main pictures being biblical scenes or figures — but with very fine patterned borders setting off each picture. [Wiki]