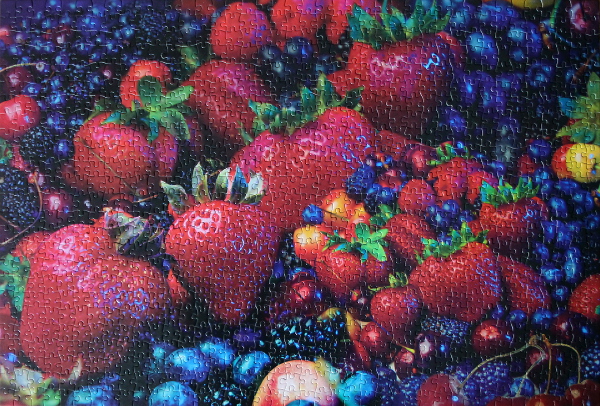 Size: 1000 pieces
Dimensions: 73 cm x 48.5 cm
Producer: TCG, Sure-Lox, Collage series, 2014, #44719-4
Photographer: Alix Mullins
Puzzle: From the same series as Shell Game, this deliciously-looking puzzle is a bit more complicated, due to many repetitions of similar colours and texture patterns. I liked starting with the green leaves and distinct colours — light blue of the bottom blueberries, bright yellow, peach and orange fruit, and the cherry stems in the bottom right and top left. For the rest, the assembly was leisurely, larger strawberries coming together first with smaller berries later filling in the gaps. The Sure-Lox pieces make the assembly quite enjoyable.

"Sure-Lox™ is a trusted quality brand. This collection of puzzles features extra thick puzzle pieces that are fully interlocking and uniquely shaped. Sure-Lox™ puzzles come in a durable, restorable box! All designed to make puzzling more fun! Image is everything!" [Puzzle box]

"Lose yourself in the entrancing imagery of the Collages artistic puzzle collection. Enjoy the challenge of piecing together these fun and playful collages of beautifully photographed subjects, like mouth-watering foods, creative crafts and more! Rich with vibrant colours and exceptional detail, these collages make for incredible works of art." [Puzzle box]