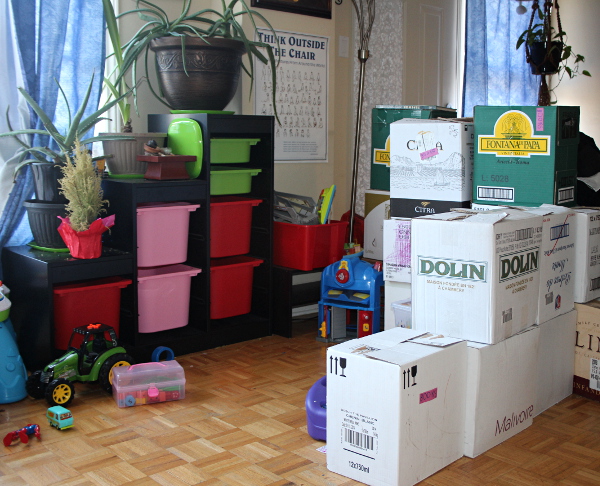 We are moving, and this means that for the past month and for the next couple of weeks we are living among boxes, and in constantly changing surroundings. When you have children, adults with hobbies, a full-fledged beading studio, a large library, a network, and a pantry, it makes for quite a few things to pack. A minimalist friend of mine came to visit during the early stages of packing and exclaimed: "I don't know how you can stand it, I'd go crazy having to live like this for even a week!" Any change in routine is stressful, full of unknowns, and can be downright scary for children. I have come up with ways to minimize everyone's stress and make packing more fun.
For children that have been living in the same place their entire life (and in our case, born in that same place as well), moving is like starting a completely new life. They don't know what is going to change and they fear everything changing, so they cling to the familiar. Verbal children try to understand what it means to move. They do not know why the move is happening and are often apprehensive about the changes they think it will bring.
We want to alleviate as many worries as possible, reassuring them about things that will stay the same and explaining why we are moving and what will be better at the new place. The more you connect with your children at this time, the easier the move will be on the entire family. Talking through the reasons and the expectations will also help you wrap your head around the move, figure out the logistics, spot gaps in your preparations, and calm your own worries about the move.
Keep daily routines whenever possible
Have meal times stay the same — reconnect, talk about the day, set expectations for what the next day will bring.
Reading time — even if your books have been packed, leave a few for the kids. Consider using the library — we go every two weeks, kids pick the books they like, and for the next little while we have new books for them to enjoy.
Bath time — leave the bath toys unpacked until the last days: knowing they can play with their favourites helps the children unwind before bed.
Bed time — with work, chores, errands, and packing, the time can be tight in the evenings. Try packing without moving the children's bed time too much. Pack with the children while they are awake, by making it into a game; or (if you absolutely have to) pack after they've gone to bed, without moving their bed time too much. Missing sleep is a sure way to raise your stress levels and get sick, so don't be too ambitious on the days you have a lot of work: pack a couple of boxes at a time. A little bit every day does add up.
Playing at home — do not forgo playing with your children for the sake of packing. They need to know you are still there for them.
Play dates — make an effort to get out so that the kids can play with their friends. On a weekend, one parent can take them to a play date, while the other takes care of moving preparations.
Going outside — if the weather is good, playing outside can do wonders to relieve the sense of being cooped up among boxes. Go as a family (you too need a time to breathe and get some sunlight) or, once again, split the responsibilities by having one parent watch the kids and the other pack.
Going to library, skating, soccer, yoga — whatever activities you usually enjoy with your children, try fitting a few outings in. A change of perspective helps us re-focus and come back into the challenging environment in a more resourceful state.
Involve the children in moving preparations
Boxing books and toys — even young children can help with packing books by handing them to you. Toys are a bit trickier, since kids want to play with every long-forgotten toy they see, but, looking on the bright side, you can keep packing other things while they are delightedly occupied. Book packing can be tricky if your children are just learning to read — my son insisted on reading the title of every book which did slow down the packing a little. I kept packing books from another shelf, however, and he loved the reading, so this arrangement ended up being quite effective.
Recycling and picking toys to donate — moving is a good opportunity to teach the kids about donating and to reinforce what can be recycled or reused. They might enjoy sorting recycling to determine whether it goes into the paper or plastic/metal/glass bin.
Going through clothes drawers — this is a great opportunity to play dress-up. My toddler loves pulling clothes out of bags and stuffing them back into bags, trying a few over her shoulders in the form of a cape. Providing strategically placed bags into which to place clothes can turn the clothes packing activity into a game.
Build forts and walls from non-fragile boxes — this is a winner at our place. The boxes with books are serving as walls of a castle, and in place of a baby gate, to prevent our toddler getting to the stairs. Both kids have a lot of fun sitting "in the castle" playing or reading. We keep the fragile boxes on the empty book shelves away from the children's reach, and use the sturdy book boxes, maximum 3 high, as bricks for the castle wall. Be sure things are not going to topple onto the kids. We've had this setup for over a month — our box walls are very sturdy.
Decorate boxes — it gets quite daunting to be surrounded by boxes, especially if, like ours, they are a mismatch of colours and sizes. We pick up the free boxes liquor stores have after their shipments come in, and there are many coats of armour, patterns, logos, and large letters that are fun to colour. My son enjoys drawing on the boxes. And to make the room more pleasant to be in, I've used some of the Waldorf play silks to cover them up, giving the arrangement a more festive look. Any colourful fabrics — scarves, sarongs, curtains — could work for this purpose.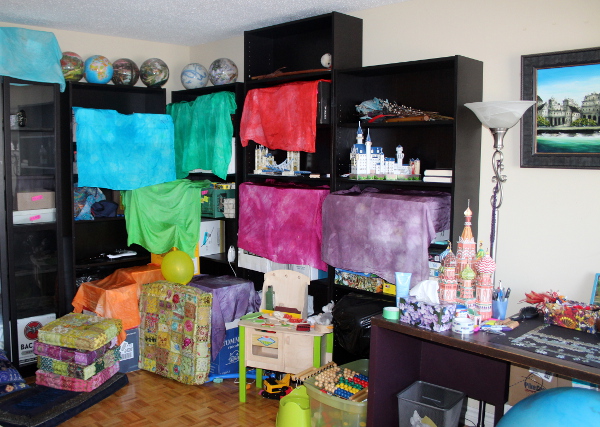 Walk-along boxes for toddlers — our toddler is also learning to walk, and since we don't have sitting furniture (such as a couch) in our living room where we spend most of the time, being able to walk along the row of boxes (one box tall) is a fun activity for her.
Hide behind walls — playing hide-and-seek becomes a lot more fun when there are new elements in the environment to hide behind.
Writing labels — if your children are learning to write, this is a great opportunity to practice. I have purchased a collection of sticky notes, to colour-code boxes going into different rooms. My son loves writing the names of the rooms and box contents on the labels.
Applying labels to boxes — it's very much like playing with stickers, with a bonus of being helpful. Children like meaningful activities where they play a helper role.
Counting boxes, books, bags, toys — moving preparations offer many opportunities for any child who likes counting. You can teach the kids to count in different languages — we count in Russian, English, and sometimes French. It can be helpful to know how many books can go into a box, how many boxes can stack under a desk, how many bags can fit into a closet, and so on.
Share the excitement
Find points to highlight — talk to the child frequently about why your new place will be better from the child's perspective. This is a very useful exercise for everyone involved — finding a silver lining in any situation is a stress-relieving technique. This might include a bigger house to play in, a new neighbourhood to explore, a new room that the child can personalize.
Getting your own room — as someone who has grown up in a single room that served as a living room, a study room, a bedroom for the entire family, and a guest room for anyone visiting, I know this is a child's dream. Our son is excited about getting his own room at the new place.
List some familiar objects that the child can take with them: toys, pictures, books. My son loves two puzzles that he helped me put together (Shell Game and Tropical Flowers) — they currently hang on the wall beside his bed. I've suggested that he puts those up above the bed in his new room, and he is delighted at the prospect. We've also talked about having his bed, his desk, and his chair in his room, and getting his own bookshelf. Now he is looking forward to all the control he will have over his environment.
Create anchors now — make the children picture the new place and where familiar things will be. Take them there before the move, if possible. If not, draw the plan and show them where their room will be, where they will play, eat, sleep, bathe. Have their imagination help calm their fears and make this move exciting.
Share what things will stay the same
Parents will still be present — reassure the child that moving to a new place does not mean moving away from a parent (unless, of course, it does, in which case a lot more positive anchoring needs to be done).
Parents' love for the children will remain unchanged — this is the time to express your love for the children even more than usual. They need reassurance that you will still love them, even in an unknown place, and that you are the steady presence in their life. There will still be lots of hugs, attention, and playing together as a family, in the new home.
Same breakfast rituals — my partner often makes oat-banana pancakes for a weekend breakfast, and my weekend special is eggs and bacon. The kids love both, and we have reassured them that we will still have those weekend breakfasts after we move.
Going to the park nearby to play — our children love playing at a park. So we were sure to let them know there shall be a park near the new place (in fact, there are several) — so we can still go to a park.
Going to a library — we are not moving far from our current place, so the library location we visit will stay the same. This is another anchor for the children.
Reading books, listening to music, playing with a balloon — we made sure the children know that there is no need to give up these favourite activities after the move.
Keep the pictures on the walls — I know some people choose to remove the easiest items first, which includes pictures and photographs from the walls. For us, our place would not be the same without the walls being covered in puzzles, photos, and paintings. If we removed them two months before moving out, the place would feel cold, empty, and unfamiliar, so I have chosen to keep them up until the last week. As a bonus, they take up less space this way, and it's unlikely a frame or glass will get broken if someone accidentally stumbles into a stack of paintings in our already-tight place.
Keep positive and calm about the move yourself. Children pick up on your anxiety and feel strained atmosphere at home when you are not happy. Manage your own stress by getting plenty of sleep, eating well, getting enough downtime, and settling your own discomforts about the move.
Take it slow – if you have to give two months' notice at your old place, it's a good period of time to get the children accustomed to the idea of a new home (as well as get used to the idea yourself). Make packing exciting — make it a game.
Help your children pace the change — take it one day at a time, let them be a part of it, and they will welcome it more readily. Give them a calendar to cross off a day at a time before the move — even a month is too long for a child to comprehend.
Do you have any tips for making a move with children less stressful? Please share!